Sailing to a new land
OAP varsity theatre to debut brand new show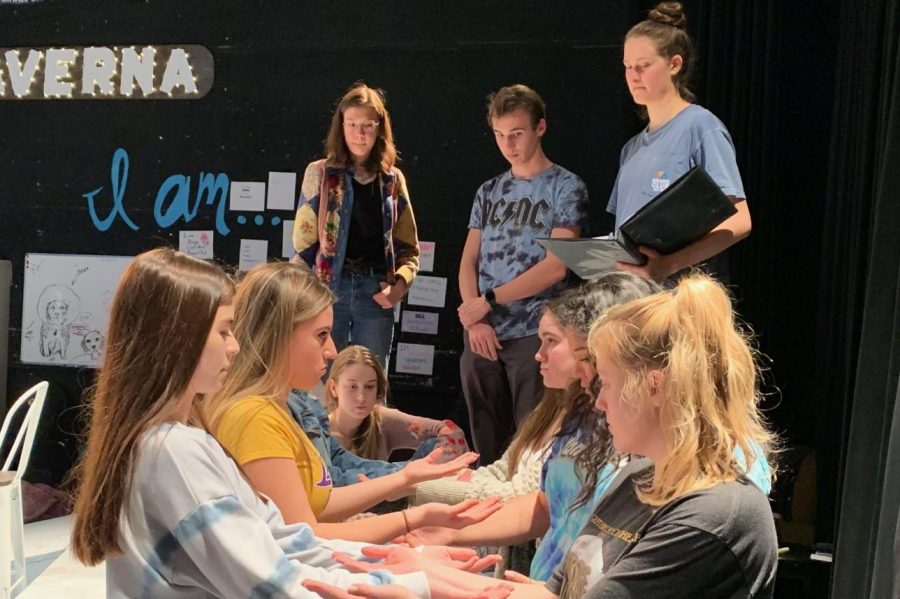 They sat in a circle, anxious for class to begin. All they knew was their competition play had been chosen. They waited as director Celeste Schneider stood in front of the class and made the big announcement, "I've been talking to an author." And at that point, the cast knew what she was going to say. 
The One Act Play varsity theatre class will debut "We are the Sea" by Laura Lundgren Smith to compete in this season's UIL contest. They will be the first group to ever perform this play in the first round of competition on March 5 at Cedar Ridge High School. 
"This is the best show I've ever read," senior Samantha Kellogg said. "I'm usually very used to staying hyper-realistic for shows, so when [this show] was all artsy, it was so powerful as I was reading it."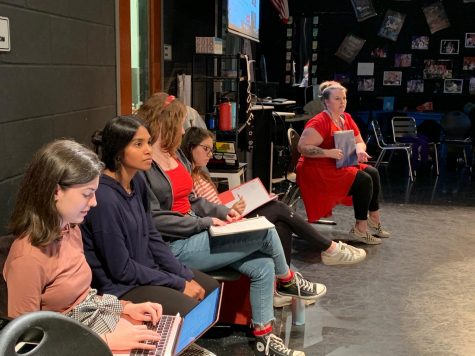 Schneider reached out to Laura Smith about a year ago, asking if Vandegrift could be the first school to perform the play. Laura Smith agreed and gave Schneider permission to perform the show before it is published. The Vandegrift cast will be thanked in the official script published by Laura Smith and will potentially be listed as the original cast. 
"Laura [is] a friend of mine," Schneider said. "She's also one of my favorite playwrights and she's written many shows that I've done before. I [am] very excited and also nervous because it's kind of scary doing a show no one's ever done before. There's nothing to base it on. But that's also what's exciting about it, just getting to start fresh and make it your own."
"We are the Sea" is set during the Irish Potato Famine and is about the coffin ships that brought Irish immigrants over from Ireland to the United States and Canada. The play highlights the interaction between the sea and the people on the ships. 
"I think there should be a dialogue right now, in this nation, about immigration," Laura Smith said. "This play tackles that, and represents immigrants as human beings, which is how we should see them. We shouldn't see them as the other. When we start to see them as the other, as less than us, I think we're on a really dangerous path. Hopefully this play will show immigrants in the light that they belong, that they are fellow human beings that are struggling."
Laura Smith said she is really excited to see how Schneider incorporates the sea on stage. The sea is played by multiple actors, the three main waves being Deep Current, Rogue Wave and Ebb Tide. Senior Chloe Almendarez plays Deep Current in the show. 
"There's a really big theme of spirituality in this show," Almendarez said. "[The sea] represents the crossing over from life to death. This is a moment for the characters to reflect on their life, their journey, their death and to come to acceptance with it to be able to fully pass it on to the next stage."
Schneider said that she chose a historical play because they have more weight to them and it is real stuff that real people went through. But she also said that because of the immerse talent in the varsity class, it is hard casting these shows and figuring out who fits what part the best. 
"As a director, my chief objective is to tell a good story," Schneider said. "I think that all the people that our cast are exactly who should be for those roles, and they earned it. We have a great path [to follow]."
The audition process took four class periods and consisted of dramatic improv, cold reads, a movement section and prepared monologues. The cast also did multiple read throughs of the script before auditions began. 
"We are really dissecting the play," stage manager and senior Kelsey Woodrom said. "It's not just a sad story, it's a tale of something that actually happened and it's a story of hope. We just have to make sure we really understand it and put 100% into everything we do."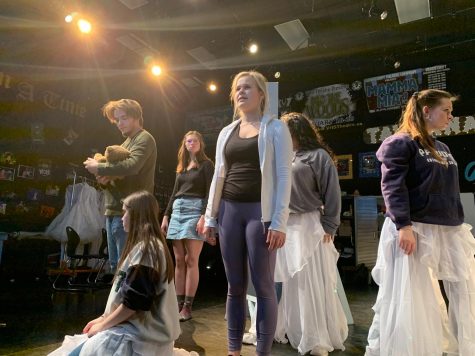 Along with Woodrom, the rest of the cast is analyzing each part of the script thoroughly. Senior Mick Smith, who plays the main antagonist, The Sailor, said all the actors are digging through the script during rehearsal. 
"I want to try to give the character as real of a feeling as possible," Mick Smith said. "I think what I'm going to do to try to give my character the justice that it needs is to study a lot. Other people are going to be doing this show, and I want it to be a good platform for other actors to play on."
Kellogg plays the main protagonist, Norah. Kellogg said she loves the strong female strength shown through her character and the show. 
"I don't want to spoil anything but there's some very good justice that is done," Kellogg said. "And it's against people who have wronged others. It's the theme that sometimes is more powerful to be forgotten than to go down in history as evil. That can be more of a punishment than those who are evil. And I just thought that was such an incredible thing to think about."
Overall, the cast and crew as a whole are excited to debut a show that has never been done before. Almendarez said she is ready to share this show with people who aren't familiar with the story of these Irish coffin ships. 
"It's a very important story," Almendarez said. "I think performing is going to be something that just makes my heart soar, to be able to feel the pure power that comes from working with my cast mates on stage. The energy of saying our most important lines and feeling the energy of the room react to that. I think being able to do it for the first time before anybody else, to share this story, [is exciting]."
CAST LIST 
Norah – Samantha Kellogg
Iseult – Alex Fletcher
Una – Claire Sarman
The Sailor – Mick Smith
John – Zander Harrison
Rogue Wave – Elle Hartman 
Deep Current – Chloe Almendarez
Ebb Tide – Alle Nau
Person – Gavin Vanna
Person 2 – Christian Dooley
The Sea Chorus 
Kylie Diefenthaler
Izzy Mendoza
Kayla Stewart
Anna Zavelson
Ashley Gradwell
Charlotte Saggers
Alternates/Understudies 
Ebb Tide – Ella Spanjersberg
Norah – Audrey Kimball
Iseult – Izzy Sommers
Una – Lily Whitehurst 
Crew
Kelsey Woodrom
Emma Alverez-Roth
Claire Lawrence 
Ashley Levy
About the Writer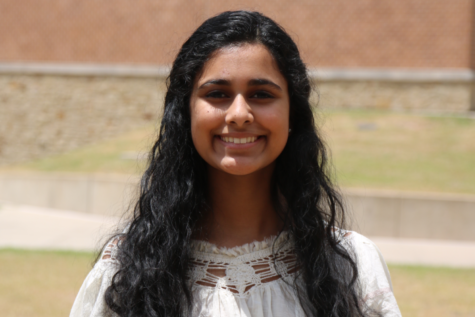 Harshita Avirneni, Spotlight Editor
Harshita Avirneni is a senior and this is her third year on the Vandegrift Voice staff. She joined newspaper because she wants to pursue a career in journalism. Harshita is also involved in UIL journalism, robotics and FCCLA.