Get down to business
INCubator students pitch business ideas, receive funding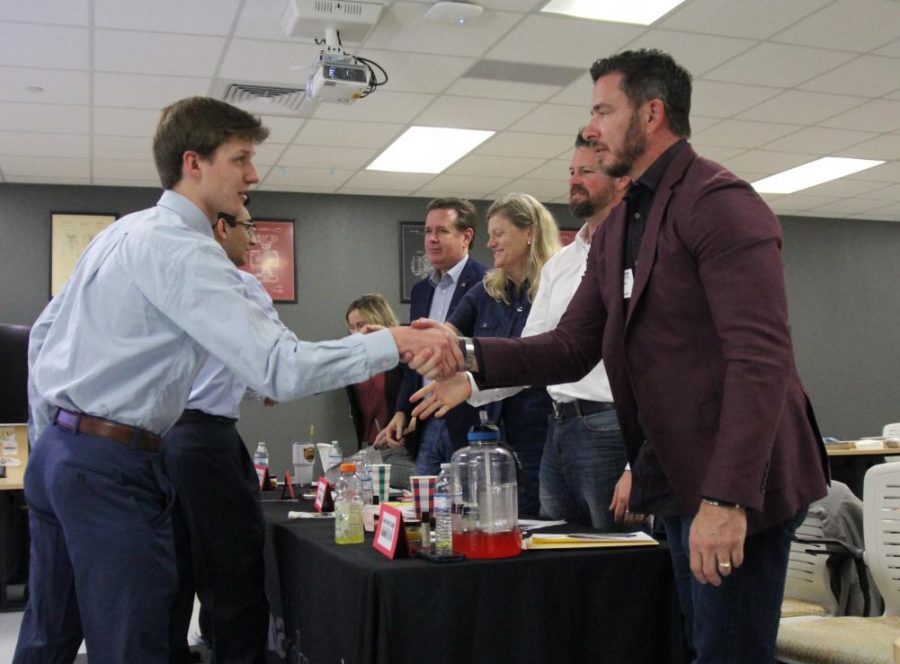 Sarah Tierney, Contributing writer
February 6, 2020
After pitching their business ideas in front of a panel of judges, all 19 INCubator teams received funding between $100 and $500 last Tuesday. The top five teams, INDUS, Prestostickers, Splash Package, Deliver Clip and Casamento, each received $500 to expand their businesses.
"We were so happy when we found out we were one of the top teams," Zia Rashed, senior and chief marketing officer of INDUS, said. "They posted the list in the morning, so I got to school early because I really wanted to see it. I sent a picture of the list to my team, and we were just really happy."
Each team presented a 10 minute pitch about their business idea to a group of judges. The judging panel was comprised of Shane Stevens, CEO and co-founder of Dental Health Management Solutions, INC.; Kai Lamb with Solaris Private Wealth Management; executive director of LEEF Kristen Huguley; Kristen Spindler, head of Concordia INCubator program and Concordia professor; and Gene Arant with Gene Arant Realty. 
"I was so proud of the teams," INCubator teacher Erin Lucas said. "Everyone did a good job pitching and presenting. The judges were really impressed and excited about the semester and what the kids are going to do with the money."
INCubator students have been working on their unique business ideas since the beginning of the school year. Rashed got the idea for her team's skincare company, INDUS, from Ayurvedic acne treatments her mother showed her in middle school. 
"My mom uses all these Ayurvedic treatments from India that my grandmother taught her," Rashed said. "I started using them, and my acne went away so fast. All my friends would ask me about what I did, so I would share the treatments with them, and it would work for them too. When we were thinking about ideas for INCubator this year, I thought I could make money off of that."
Rashed said she felt nervous presenting in front of the judges, but relaxed a couple minutes into the pitch. 
"Presenting was really scary, especially when the judges asked us questions," Rashed said. "The judges were really nice, but it was pretty intimidating at first because there were five people literally judging you. But after maybe two minutes, it got really chill, and I started to feel more confident."
In May, the same judges will return to the school and the INCubator teams will present again in the hopes of moving onto the Accelerator program and receiving thousands of dollars of more funding to run their businesses next year. 
"INCubator made me learn so much more about marketing, and now I actually know what I'm talking about," Rashed said. "There's all this technical business jargon that I learned, and I'm definitely going to remember it. It's going to help me in the future."
The INCubator program teaches students the skills necessary to run the businesses they created in class, but both Rashed and Lucas said the program helps students develop skills they can use outside the classroom. 
"I think that it helps develop your teamwork skills, because you can't break up with your team," Lucas said. "You have to learn to work together, and that can be hard for students. It also helps makes students talk to adults for the first time in a professional environment, which a lot haven't done before. It's more than just a class."