Juniors organize fun run for scholarships
Glow sticks flew through the air as the community ran in circles, the wind fighting against them. Temperatures dropped with every lap as the girls stood on a panel, throwing out bracelets and cheering for all the runners. 
To raise money for the Quell Foundation's Fighter Scholarship, juniors Shelby Wall and Reina Delgollado put together a Glow On Fun Run as part of an FCCLA project. The fun run took place Nov. 16 on the fields at Towne Square from 6 p.m. to 9 p.m. with black lights illuminating the track.
"Last year we did a book drive and this year we wanted to do something bigger," Wall said. "That's when we got the idea for a fun run. Not a lot of kids are involved with mental health because they aren't really told about it at school, so we knew we wanted to get kids involved."
Quell is an organization involved with reducing the number of suicides, overdoses and other illnesses related to mental health. The girls worked with their marketing team, who helped create their website where people could donate online. 
"We emailed them, and their CEO ended up answering," Wall said. "He told us to call him because he was so excited about this idea, and we ended up talking to him for more than an hour. It was insane. He was almost more excited for it than we were at the time, which then got us more excited."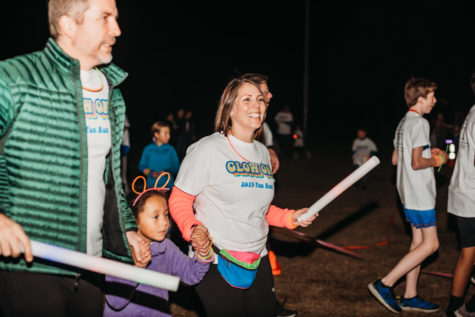 Along with the 5K run, there were also games, food trucks and a movie in the park that played after everyone finished the run. The juniors encouraged participants to bring blankets, chairs and wear glow-in-the-dark gear.
"I knew this was a huge endeavor and was nervous if they were taking on too much, but they proved me wrong," advisor Deanna Bently said. "Shelby and Reina are very independent and organized. They had a plan and executed it beautifully. They didn't really need me at all."
The girls emailed other companies and offered them a chance to cosponsor the fun run. The Moviehouse & Eatery and Kendra Scott both donated to the fundraiser.
"We had a list of companies that had a history of sponsoring in Austin and companies that were interested in mental health issues," Walls said. "[Getting sponsorships] helped a lot with getting the word out and putting it all together in the end."
Overall, the girls raised $5,200, which Quell Foundation doubled. The Quell Foundation can distribute the funds as scholarships to at least teens who suffer from mental health issues. 
"My cousin has mental health issues and I grew up with her struggling, so this is something that really means a lot to me," junior Reina Delgollado said. "We wanted to raise enough money to give as many scholarships as possible. Hopefully they'll tell us how many people were able to get a scholarship."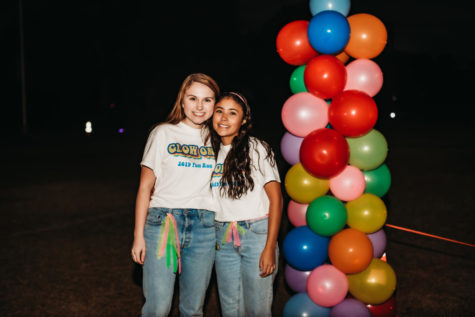 After two months of planning, the girls sent flyers to advertise the event. Twelve to 15 volunteers signed up and more than 100 people attended the race.
"Knowing we were able to give at least three scholarships away feels really good," Walls said. "It was just so rewarding to see everyone there and excited to be there knowing they're there for a good reason. We want to try and do the run again next year, and hopefully it will be even bigger."