First time's a charm
Band and Vision Dance Company places first in debut Bands of America Grand Nationals appearance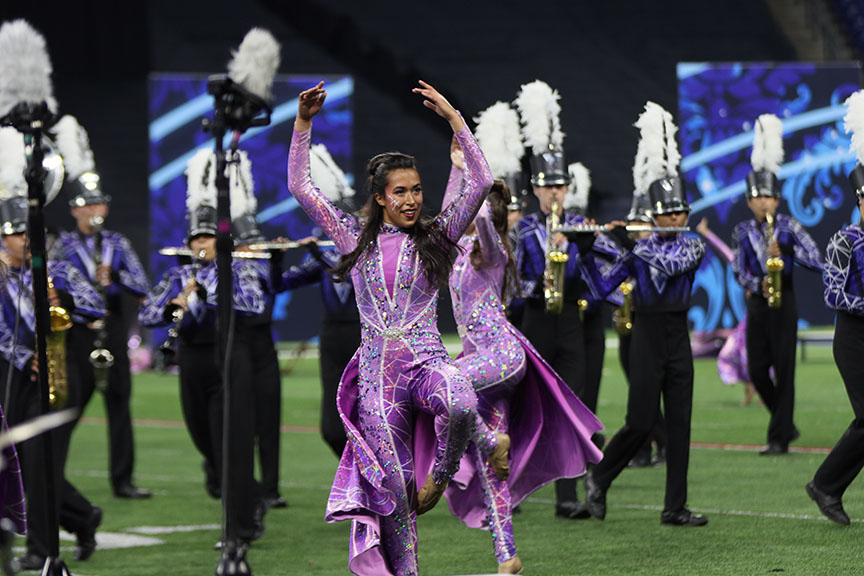 The drum majors stood with their backs to the audience as the band played skillfully in front of them. Even with the audience behind them, they could feel the crowd stand up and applaud. As the last note rang out, the cheers rose to a roar.
The Band and Vision Dance Company placed first out of 91 bands at Bands of America Grand Nationals in Indianapolis, Ind. this past weekend. This was the first time the band had ever competed at Grand Nationals, and they walked away with one of the biggest awards in the band world.
"It's one of the most highly coveted accolades a band program in the United States can receive," band director Michael Howard said. "I don't think I ever expect to get first place. I thought the band would do very well, but you just never know. It was unexpected."
The band passed through the preliminary round and swept the semifinal round, placing first and receiving honors for best music, visual and general effect. In the final round, they scored a 97.175 to come in first while also getting mentioned for outstanding general effect. For many students, it was the first time they performed in front of so many people.
"It's not a feeling anybody can just convey," bass clarinetist and junior Cody Plate said. "You look at the stadium. and all those people are there for you. They're there to see how much work you've put in. You just give it your best shot, and the feeling when they all stand up and clap, it's just kind of slow motion, like a movie. It's crazy."
The band's show, featuring music composed by Mozart, even drove some rival bands to cheer for them. Still, members did not expect to come in first place.
"I was shocked," Vision dancer and freshman Kate Dennis said. "I mean, we worked so hard, but I think we deserve it. I feel so blessed and honored that we got to do it. Our finished product turned out amazing."
"
It's not a feeling anybody can just convey. You look at the stadium, and all those people are there for you. They're there to see how much work you've put in. You just give it your best shot, and the feeling when they all stand up and clap, it's just kind of slow motion, like a movie. It's crazy."
— Cody Plate
After their performance, the band rankings were called out: third place, second place. Once second place was called, the band knew they had won. Even though there was about a minute between the time the second place band was announced and the time Vandegrift was announced as ranking first. Even with this time to process their first place ranking, some band members theorized that they were in a simulation.
"I literally thought I was in a dream," drum major and senior Madison O'Neil said. "We were all shaking because we didn't know what to do. It still feels unreal, but when you go and touch the trophy [you have to say] 'Ok, I guess it's not fake.'"
The band staff worked with a travel agency to charter three planes to transport the band to Indianapolis. To transport the props and set pieces, 10 parent volunteers drove trucks from Austin to Indianapolis. Any band can go to Grand Nationals, but it takes a skilled band to win, and Howard waited to go until he was confident in the band's ability to make it to the final round.
"It's something we've been interested in doing for a while, but it is very hard to get into the finals contest at that show," Howard said. "I did not want to travel up there until I felt like the program was in a place where we would have a really good chance of being able to perform all the shows. I felt like the program was in a place now where that that would be a likelihood, so that's why I made the decision to wait until this year to go up there."
While the band staff worked to organize the logistics of getting a 400 member band to another state, band members spent their free hours practicing. They began practicing in the summer to prepare.
"When you're doing something that consumes that much time, it becomes your life, you're forced to do it, forced to be really dedicated to it," baritone player and sophomore Santiago Parchen said. "When you're with the same group of people for years, they become your best friends, and you just feel obligated to keep going."
Band members value the community that builds up around the countless hours spent on the concrete, the field and the buses (and planes) that take them to competitions. Vision dancer and senior Rachel Bischof cites this community as the thing that keeps her dancing even when Vision demanded so much of her.
"It's a whole organization of people who are going to be there for you, who are in the exact same situation," Bischof said. "There's always people pushing you to be better and you want to push your friends to be better and keep going. I really hope I remember the whole thing forever because of the amount of hard work [we put in]."
The highlight of Bischof's four years with Vision was as a freshman, when the band traveled to Hawaii to perform at Pearl Harbor. She loved the freedom the trip gave her to spend time with her friends in Hawaii.
"That's when it started feeling like a family to me," Bischof said. "When I really look back on it, I have no idea what competitions we won this year or last year, or the year before. It's just it's all about the people you're with and what relationships you have with them."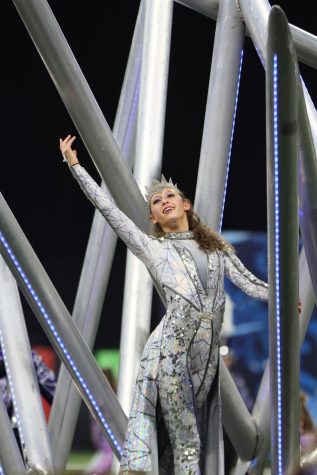 Alto saxophone player Grace Deragon also values the relationships band has brought to her. Howard has helped to create a culture of family.
 "The way he speaks to us is very inspiring," Deragon said. "It makes me feel like I'm a part of the family. We helped each other get through the season as much as we complained, as much as we cried or bled."
Plate said it felt especially amazing to get first to honor the work all of the seniors put in during their four years of band.
"We did our seniors justice by getting first and rewarding all their hard work," Plate said.  "It's just about the relationships, I care for the people there. The way that it makes you feel when you perform marching band, it's crazy. Everybody is your friend, you can talk to anybody."
O'Neil understands the underclassmen wanted to make the seniors proud because she felt the same way her freshman year. She joined to create relationships with students who were not in her grade as well as teachers, and now she wants to instill the same idea of a supporting culture in the underclassmen.
"Now that I've grown, and I'm now the senior, my expectation for myself is to inspire the underclassmen to do the same for us," O'Neil said. "It's the motivation of keeping each other feeling the same culture, the same motivation and inspiring each other, so in the future they can do the same."
O'Neil said she will always remember the feeling of the audience roaring behind her, cheering for the band that she faced, knowing that the show went well.
"I think it was not only the best way to end my senior year, but something that will be memorable for me that I can tell my kids when they possibly do band," she said. "I can tell them that it went down in history, not only at Vandegrift, but LISD history. It was definitely a memorable show, a very emotional show that told a story. It was the best show that we have had in my four years, and probably the best show that the Vandegrift band has had."
About the Writer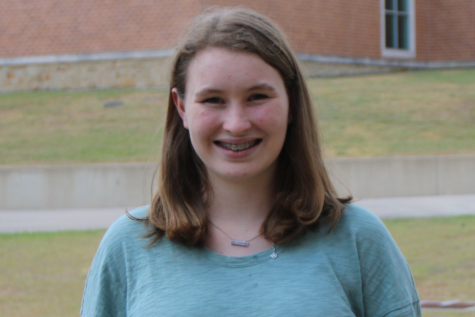 Natalie Brink, News Editor
Natalie Brink is a senior, and this is her third year on the Vandegrift Voice staff. In the spring, she competes in UIL journalism. When she has free time she reads as much as she can and walks her dog. She hopes to pursue a career in journalism after graduation.