One last song
Choir program hosts first ever fine arts signing day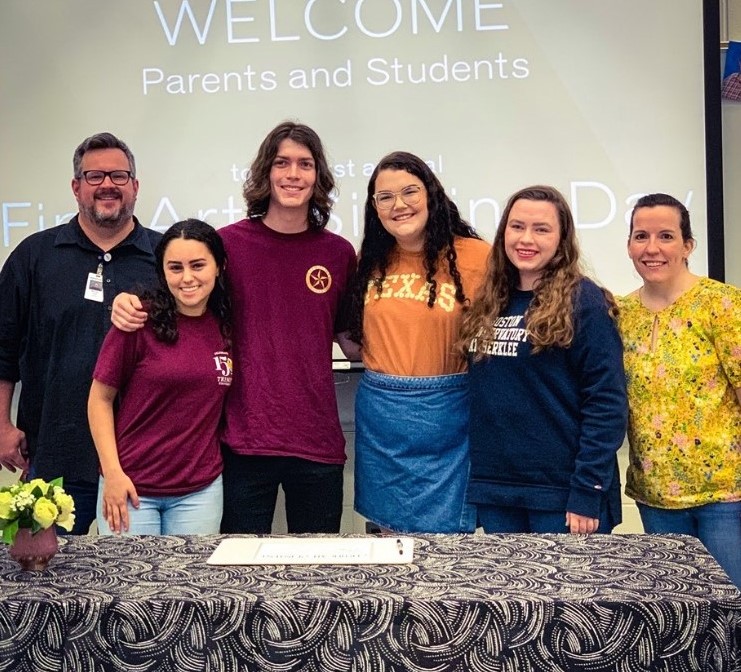 They stood at the front of the room, each waiting for the chance to sign the paper at the table. For four years they have worked for this moment, and it had finally come. Their opportunity to celebrate their ultimate achievement was here.
Four choir students signed to their perspective colleges at the first ever Fine Arts Signing Day on May 1. Seniors Emily Densmore, Elizabeth Widener, Armando Tomlinson and Marley Price will all be participating in fine arts in college.
"I'm excited for them to get exposed to new and challenging musical experiences," choir director Michael Zook said. "I'm gonna miss their smiles in class every day. These four students bring so much joy to the choir classroom. We will definitely feel their absence. They have had quite the impact."
This fall, Densmore will be attending the U.T. Austin for Vocal Performance, Widener will be attending Boston Conservatory at Berklee for Vocal Performance, Tomlinson will be attending Texas State University for Sound Recording Technology and Price will be attending Trinity University for BA in Behavioral Neuroscience and receiving a music scholarship for participating in the Trinity Chamber Choir.
"Berklee is a very competitive school and I auditioned there thinking I wasn't going to make it and then when I did, I was super excited," Widener said. "I am looking forward to the opportunities and the city, [but] I going to miss Mr. Zook [and] all the friends I have made."
This year was the first year Vandegrift has ever done a fine arts signing, but it was also the first one done in the district. Densmore said she hopes this can grow within the school and the district.
"I think it's super cool that I get to be a trailblazer for this," Densmore said. "I hope that one day we can open it to theatre kids as well but I know it was sort of last minute [this year]. I hope it can get bigger and it can be something that the other LISD schools do."
Densmore added that Mr. Zook has always wanted to do a fine arts signing.
"I'm a big advocate of celebrating our students," Zook said. "A lifetime of building upon musical skills culminating in an acceptance to perform at the collegiate level or receive scholarship to perform beyond high school is a major reason to celebrate. We are so proud of these choir students."
Zook said he is excited for Densmore, Widener, Tomlinson and Price to get exposed to new and challenging college music.
"College musicians are capable of such incredible things, and it can be such an inspiring time, both personally and musically," Zook said. "They are so eager to learn, and get so excited to learn something new. I'm excited for them."
About the Writer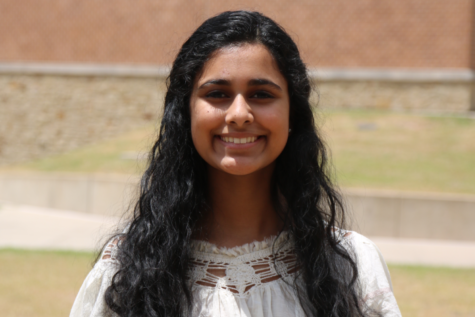 Harshita Avirneni, Spotlight Editor
Harshita Avirneni is a senior and this is her third year on the Vandegrift Voice staff. She joined newspaper because she wants to pursue a career in journalism. Harshita is also involved in UIL journalism, robotics and FCCLA.