Art Club gets commissioned for Earth Day sculpture
Art Club, led by sophomores Emily Huang and Nidhi Katta, received a check last Friday from the Leander Parks and Recreation board for a sculpture of wings titled "Ariel." The piece was made entirely out of recycled materials and submitted their piece for an Earth Day sculpture competition at the end of last year. Not only did the club win first place for their category, but it also got commissioned to create a more durable version of the wings to be placed in a new Leander park.
"Originally, we made it out of cans and cardboard and the cans were cut into feathers," Huang said. "We ended up winning first place in the wall hanging category of the competition and we were paid extra money to make another set that would be more durable so it could be put outside."
The Leander Public Arts Commission had been searching for sculptures to be placed in the new Leander park being designed, Lakewood Park. After not getting many responses from area artists, the Commission team decided to go searching in school competitions.
"We wanted to make it open enough where we could buy something if we wanted to [moving forward]," Ashli Williamson, Leander Public Arts Commission representative, said. "The last wings weren't really doable to put up in terms of the sharpness of the feathers, but we loved the concept so we bought that from these students. It's one of those things where it turned out to be a win-win for everybody."
Huang and Katta headed the project for the Art Club. They pieced together the sculpture after students in the club helped get all the materials cut and ready. The girls both spent hours outside of school and PIT time with the club working on this project to finish it in time for the Commission team to get the wings.
"Other than PIT, we came in for studio nights which was once a week after school," Huang said. "Sometimes Nidhi and I would meet up outside [of school] at one of our houses to work on it more. During the summer, we spent time testing what we could do to make it last outside."
Williamson said that the park where "Ariel" will be placed is going to be a very unique park. They plan to put playgrounds throughout it that differ from the traditional ones in nearby Leander parks. It will be a disability and handicap oriented park which, Williamson thought, makes it the ideal location for the wings.
"We don't know exactly where [the park will] be yet," Williamson said. "First we were planning on putting the wings at Divine Lake Park because the whole angel wings and Divine Lake thing, but there's really not a place over there,  we just thought that Lakewood Park would probably be the best place for the wings."
The Leander Public Arts Commission is still a relatively young organization, but Williamson said that they are interested in continuing to purchase student art moving forward. This particular piece was one of the earlier student pieces commissioned and the main reason it was chosen was for the concept of the piece.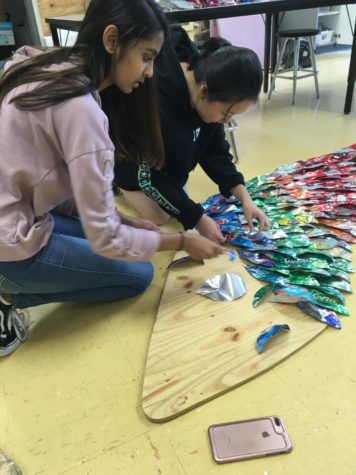 "They liked how you can interact with the wings because it's a wall hanging," Huang said. "They will put it up on a wall and make sure you can stand in front of it and take a picture where it looks like you have wings.That's why they chose it, they were interested in the idea of interacting with it."
As the heads of this project, Huang and Katta not only instructed the rest of the art club on what they could do to help, but they came up with the entire concept and the name of the piece.
"'Ariel' is basically the angel of Earth," Huang said. "It maintains the Earth's quality and its health, and we thought that was an interesting idea. It also contributed a lot to why we make it [look] like a rainbow."
The hard work that was put into this piece as well as the unique concept all contributed to it getting picked for the new park. Though student art does get placed in public spaces, it's rare for student artists to get commissioned.
"It's really cool that they got picked," art teacher Thao Roth said. "Usually, artists have to apply to have their work put in public places, but to be asked is such a great opportunity, so I was just so proud of them. I just really hope that [the club] gets some recognition for doing this."
About the Contributor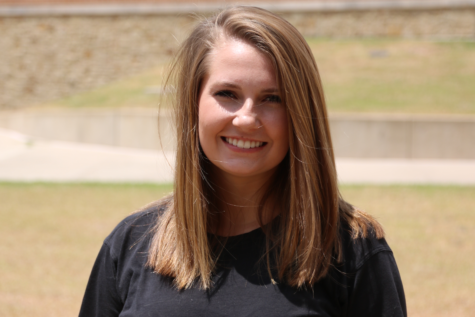 Codi Farmer, Staff Reporter
Codi Farmer is a senior and this is her second year on staff. She is also involved in PALS, DECA, UIL Academics and Rake the Lake. She loves music, reading...