Robotics prepares for first competition of new season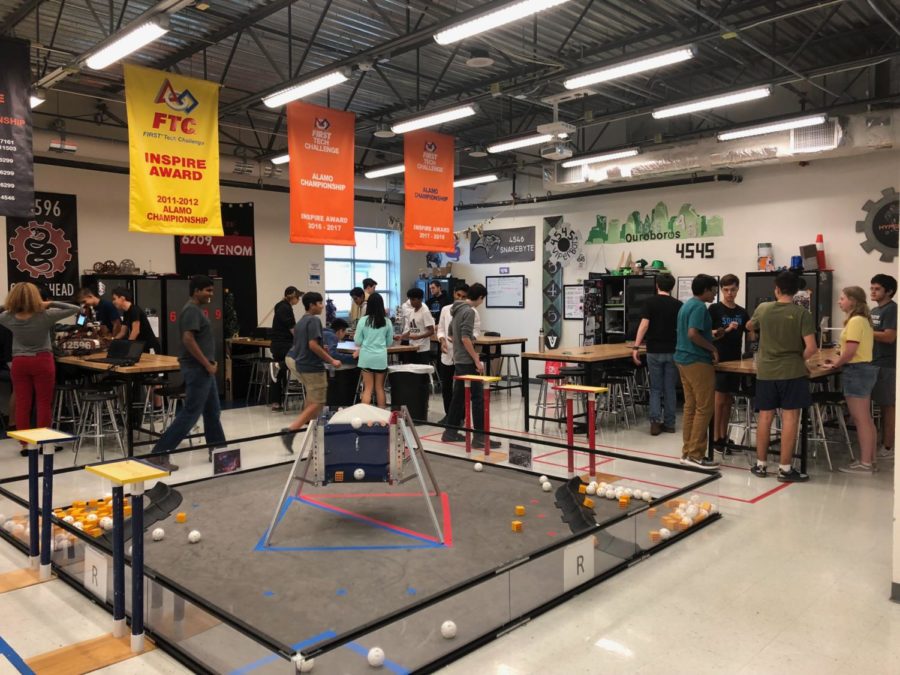 Jakob Tan, Contributing Writer
November 8, 2018
The eight ViperBots robotics teams geared up for their first of three League Meet events on Nov. 10 at Dripping Springs High School.
These teams compete in the First Tech Challenge. FTC is a robotics challenge that pushes middle and high schoolers to design, build, program and operate robots to compete in a head-to-head competition. This year, the game is called Rover Ruckus.
"This is probably the hardest robotics challenge I've seen," senior Nicholas Chan said. "I'm a bit worried about this year."
Chan is the assistant project manager and hardware lead of team 7161 Hydra. Chan expressed his concern for the first meet, with the difficult task of being a leader and a member of his team at the same time.
"The hardest but most important aspect of my role is to maintain progress, and set a good example for the rest of my team," Chan said. "You have to make a decision with the intent to make progress, and stay consistent in your decision making even if it's hard."
Senior project manager of team 6209 Venom, Bo Deng, is also feeling the pressure. Deng said he is hoping to get a feel for what other teams have to offer in this competition and how his team can improve in for future competitions.
"I think I'm intimidated by just how good other teams in ViperBots are," Deng said. "I look around the robot room, and I see seven other amazing robots, and I think about how it's going to be really tough to compete with the rest of the ViperBots this year."
Computer science teacher and faculty sponsor Irad Allen is beginning to notice the teams stepping it up in preparation for this first meet. Allen said he thinks four of the eight teams are competition ready, with a couple really close.
"I know teams are going to struggle, I know teams will do well," Allen said. "I think our role as mentors is identifying and understanding what went wrong and what they need to do to make sure they don't have the same experience in the next competition."
Teams meet in the mornings and after school everyday of the week. Before competitions, the teams have official build days every Saturday from 1-7 p.m., where they spent the entire day working on their robots. The teams also have unofficial build days where a sponsor or parent comes to the lab to give the students more time to work on their robots.
"I think in the first competition we'll do really well," Allen said. "I think, as we get closer to competition, it's my role to help destress things, but I think really the hardest part, as far as being a mentor, is trying to get them to understand the importance of deadlines and accountability within the teams."
FTC splits the country into different competing regions, with Vandegrift in the Austin Metro League, leaving 52 teams to compete in the first League Meet. After the three meets, the Austin Metro League championship will be on Feb. 2, where teams will carry over their standings from the previous meets, and compete for a spot in the regional competition in early March.
"Standing in front of thousands of people with a controller operating a robot is the most exhilarating thing about competitions," Chan said. "It'll always be a win; the journey is an experience you could never forget."