Band excels at UIL Region Marching Contest
Hang on for a minute...we're trying to find some more stories you might like.
Band is living up to the "Second to None" school motto as they received the best scores possible in all categories at the UIL Region 32 marching contest at Gupton Stadium this past Saturday. Band will be looking to carry their momentum with them as they travel to the UIL Area Marching Contest this coming Saturday in San Antonio.
Band received 1s in all categories on a scale from one to five, with one being the best possible score. For this reason, band members can head into the next round of competition with a good deal of optimism, and for some, there were even more positives to take away from UIL Region.
"I think that you can look at the scores and the judge tapes and get a sense that we're good, and that we played clean," drum major Pranav Batra said. "But the thing that we did best was the way we inspired the audience, we went out there and we gave them everything we had, we were able to channel that inner emotion."
This dedication to captivating the audience as well as performing the music correctly is one of the many reasons as to why the band is able to perform well during competition each year. Yet, despite this degree of success, there is always a desire to improve even more come every round of competition.
"It's rewarding to me because the students had a great show, and they performed well," head band director Mike Howard said. "They're continuing to improve as we will be going on to the next round. They certainly know we're not perfect and that we still need to make things better for this coming weekend, but I was real proud of their performance on Saturday."
This yearn for continued improvement calls for consistent practice, something that has not been the easiest thing to accomplish with the recent bad weather and current boil-water notice. However, the band has been able to make do, and the upcoming community performance will do even more to help with preparation for the UIL Area marching contest this Saturday.
"We've dealt with a lot of rain in the last couple weeks so we'll try our best to get some good rehearsal hours in," Howard said. "The students also have a community performance on Friday night since we don't have a ball game this week, so they will have a full uniform performance on at 7 p.m. to prep for Saturday's competition."
Drumline has also benefited from the practice that comes before every competition, and like the rest of the band, they too share the desire to continually improve.
"I think the drumline did really well considering it was the first round of UIL," drum captain Izzy Ramirez said. "I still think there's a lot to improve on for state, but once we get there I think we're going to play really well."
As the UIL Region contest essentially acted as the first step on the road to state competition, many students will now have future rounds in the forefront of their mind's.
"I think competition is going to be better than it has been before, especially this year," Ramirez said. "We just have a lot better potential specifically in what we're playing this year compared to other years, and I think it's going to be something really special."
For students, UIL competition can bring a great sense of pride, as many students have the opportunity to project the music they love for others to hear. With each round of competition the band is able to reach a larger audience, and for some students there is no better incentive to perform well at the UIL Area Contest this Saturday.
"I'm looking forward to sharing our show with the rest of the world," Batra said. "I feel like we have a show that definitely taps into a lot of the band student's emotions, and I think that if we can inspire audiences and people to enjoy band or music as a whole, then that is something that I can look forward to."

About the Writer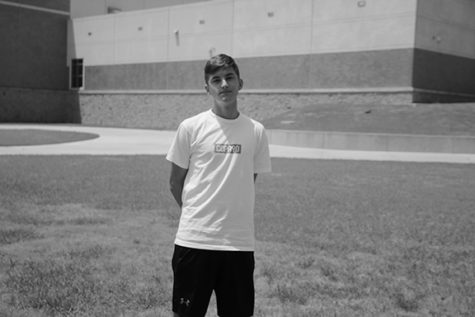 Miguel Blanco, Staff Reporter
Miguel is a senior at Vandegrift High School and this is his first year on the Vandegrift Voice staff. He enjoys learning about history, spending time...