Basketball coaches and students face off
This Friday during the end of day PIT, students and teachers will be invited to watch a basketball match between the student basketball players and their coaches. The game will switch off each quarter with the women playing the female coaches and the men playing the male coaches. It is also a fundraiser to help Fellowship of Christian Athletes raise money for their club.
Assistant basketball coach Brady Ruiz will be participating in the game.
"Our strategy is play like we want the players to play during the season," Ruiz said. "Communicate on defense, work the ball to get a great shot."
Ruiz said his training is coaching basketball and that the father of two's playing days are over.
"The guys will try to do everything they can to show us up," Ruiz said. "I am just trying to not get hurt. Your mentality changes when you are my age."
Ruiz will be playing against many of the JV players he taught during his first year and said the last three years had created a solid bond, including picking on each other.
"I will enjoy playing against Joe Ferrell the most," Ruiz said. "I give him a hard time about beating him in 1 on 1 during the season. He walked into the gym before practice and I made him play me just how he was. His shoes were not tied and he had a backpack on and I would not let him take it off. I beat him pretty good that morning and remind him of that when I see him in the halls."
Ruiz has three years of playing these faculty vs student games compared to the seniors who will be playing for the first time, like Jonathan Dow.
"We're gonna kill the coaches and I think they don't know what's coming," Dow said. "I think the rest of the team feels the same way and the coaches are getting a little old."
The men's basketball team has practiced outside of school together during open gym Monday's.
"Usually it's just the team playing together," Dow said. "Our strategy is just to make them run and wear them down. I think it's going to be a lot of fun."
Also joining in the game will be Assistant Principal Michael Heath as a referee. This will be his third year participating.
"These games are similar to the faculty vs softball games the elementary school has and we've had a game ever since the school has been open," Heath said. "It's just a chance for the faculty, and who in this case basketball, to have a fun game and help raise money for one of our clubs. It's also a chance for students to see basketball players try to beat up on the faculty."
Heath hoped the students ultimately just have fun.
"The most fun part for me being a ref is getting the chance to let the kids know that we're normal people, so they get a chance to hang out with us and play around," Heath said. "It's fun because Vandegrift is a very tough academic school and there's a lot of tension AP Exams and it's just a chance to take a break and have some fun and let everybody just relax for a bit."
About the Writer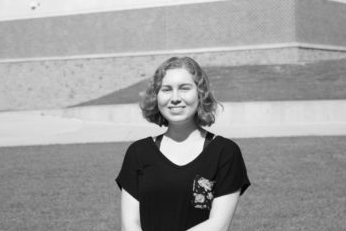 Caitlin McKeand, Co-Editor in Chief
Caitlin McKeand is a senior and this is her second year as a staff reporter for the Vandegrift Voice. In her free time, she enjoys reading, writing, archery, and dogs. Austinite born and raised. She is the Vice President of ASL Honor Society and works for the Riverplace Living Publications for the housing segment. One day she hopes to write a book.