Chinese classes to be offered in-house at Vandegrift
After having an online Chinese program for five years, the district has decided to introduce an in house Chinese class starting next year. This was decided because of factors such as cost benefits for the growing program and elimination of the barriers students have toward online classes.
As an online class, the Chinese classes were taught in a computer lab through a program with a dashboard and a teacher who comes online to teach. The teacher lives overseas, and communicates through a web camera.
"I think that offering Chinese as a live one-on-one instructor in a classroom will be a lot better for students in the long run," dean of instruction Christine Thompson-Martin said. "Online is not something students seek out as far as learning opportunities go. Accessibility is a lot easier for any growth or support needed, and I think it would appeal to students more."
In the language department, all of the departments are experiencing growth as the school's population grows. Most students take Spanish, with the number of students being quadruple the other languages sizes. The French department is growing, and the Latin department is expanding as well.
If there was a Chinese language option at Vandegrift, it would be similar to these other classes. There would be a Chinese 1 on level class, second and third Pre-AP classes, and a final AP Chinese Language and Culture class.
"It would be very similar to what's offered in other languages, it would just give a different spin for students who had a different interest," Thompson-Martin said. "And I think students would like a different thing."
The current online Chinese class is self-paced, with no strict deadlines for assignments. The current Chinese class sits in a quiet computer lab with other groups such as credit recovery.
"It's nice having no due dates," said junior and third year Chinese student Evan Lin. "I like how lenient it is, it's very flexible, but it can get boring at times."
The district made the decision to offer this new class earlier this school year. There would need to be a newly hired teacher to teach the class, because there is no one on the current staff who could teach Chinese. The class would not be offered for IB students next year, but it is likely to become an option once the program exists.
"We are getting increased interest in Chinese and so what we're trying to do is bring Chinese to our campus," Thompson-Martin said. "The online learning option isn't the best for all students, and having that self-paced instructional piece isn't the best for all students, and so we're hoping to have enough interest to get a class here."
Lin agrees that it would be better to have a classroom-based Chinese class.
"You would get one-on-one attention from the teacher, you could actually talk to the teacher because they are an actual person who's not just on a webcam thousands of miles away," said Lin. "There would be actual tutorials, so you could get help outside of class."
About the Writer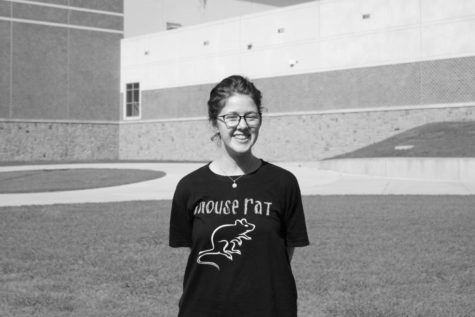 Hadley Hudson, Co-Editor in Chief
Hadley Hudson is a senior and this is her second year on the Vandegrift Voice staff. She is the Editor in Chief for the 2017-18 school year. In her spare time, she enjoys studying, reading, and participating in school clubs. She is a member of FCCLA, HOSA, and Red Cross. She is looking forward to another year in newspaper, and enjoys writing feature stories.