Student wins debate competition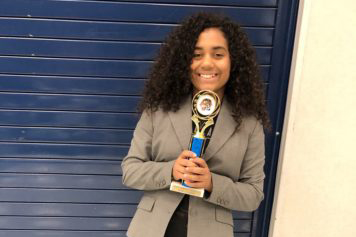 Over Thanksgiving Break, senior Elly Mustafa won this year's Novice Lincoln Douglas debate competition at Stoney Point High School. Mustafa spent long hours debating practice rounds with her fellow students.
"I haven't won anything in a long time," Mustafa said. "I don't compete much, so this was my first tournament I went to in a while"
On Nov 17 after school, students travelled to Stoney Point to start preliminary rounds. They can have anywhere from four to eight rounds in a tournament. Sometimes, students don't finish until midnight.
"I got matched with this guy who got a [score of] 4.0 and I had 3.1, so I was nervous," Mustafa said. "The side he got he wasn't his best so I ended up winning that round and then my teacher came back with a trophy and took a picture of me."
Students that compete, like Elly, put in a lot of preparation like going through speaking drills, thinking on their feet and also going through skill-based drills.
"There is a ton of work that goes into preparing for a debate tournament that most people don't see," English teacher Mallory Matthews said. "Students must also go through speaking drills and other skills-based drills to prepare to face tough competition."
Everyone at debate tournaments are highly competitive, but outside of rounds, they will socialize with both their friends and students from other schools. Even the coaches are dependent on each other and will express moral support.  
"You may be going against someone, but the second the round is over, you can just chill with them," Mustafa said.
Students don't know what side they will be presenting until the last 10 minutes before the round begins. Unfortunately, opponents can have such similar scores that the winner will be chosen based on speaker points.
"I feel like all the work I put in paid off, and I got something out of it," Mustafa said. "Going into rounds is pretty stressful but coming out of the rounds leaves me feeling satisfied."
At the beginning of the year, Elly moved and took debate class instead of Professional Communications. Eventually, her teacher met with her and suggested she join the debate club.  
"Debate tournaments make for really long days and weekends, but to see the kids grow and learn is indescribable and makes it all worth it," Matthews said. "It's one of the reasons why I love what I do."
About the Writer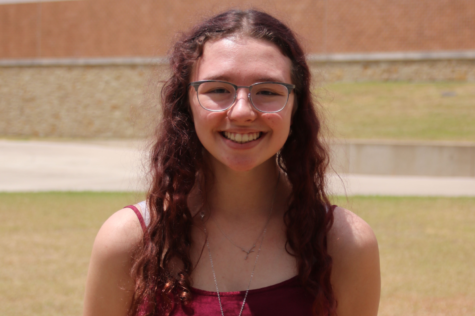 Claire Lawrence, Opinions Editor
Claire Lawrence is a senior and this is her third year on the newspaper staff. She wants to study journalism in college and eventually become the editor of a successful publication. She also enjoys theater and writing music.