Two students win Best of SNO awards
School Newspapers Online (SNO) features a "Best Of" page that showcase the best writing articles from a variety of college and high school newspapers in order to display works they hope will inspire students with new ideas and fresh writing styles. Two students, senior Hadley Hudson and junior Alaina Malone, from the Vandegrift Voice Newspaper were recently featured on their front page.
SNO looks for articles that are engaging, concise, relevant and appeals to a large audience. After submitting their appeals, Hudson and Malone heard back a few weeks later that their articles were chosen. They are the first students to ever be featured from the Vandegrift Voice.
"I was really proud of myself because I feel like our newspaper doesn't get as much recognition as it should get," Hudson said. "When I wrote an article and people recognized it and validated that it actually happened, I felt like I actually got the recognition I wanted for all the hard work that I do in newspaper for once and it felt really good."
Hudson wrote an article about the privilege walk the freshman English department did and said she wrote in a different writing style than she usually chooses.
"It became more of a story that was told as it went on, so more of a narrative, but a very objective narrative," Hudson said. "I really enjoyed writing in that style and will most likely try out some similar work in the future."
Hudson said she never imagined her article would get chosen for SNO, and when she found out she was on the front page, she was thrilled.
"In the future I'm excited to write more articles," Hudson said. "I like writing them in the first place, but now that I know there's actually people that enjoy my writing, I'm excited to keep writing different styles and keep exploring the newspaper sphere."
Malone wrote about taking her mom to a rap concert.
"I'm very humbled to have my article chosen," Malone said. "This is really the first official step to me becoming a more professional person with my writing and think about it more seriously now."
Malone didn't know she would write the article when she went to the concert, but after having a great time thought it would be a great story.
"You have to have something interesting going on to write a good column, and I thought that was perfect and I had no idea that when I submitted my article to SNO that it would be picked," Malone said. "I thought it was just a shot in the dark."
Malone said she thinks SNO chose her article because of the originality.
"I think I've worked really hard this year compared to last year and it's certainly paid off," Malone said. "I think I deserved it, but I also think it's pretty crazy I won."
SNO receives thousand of articles every year and looks for the best. Hudson and Malone's newspaper teacher, Lela Coker, said she was excited and proud they were chosen.
"Hadley's article was reported thoroughly and the subject matter was relevant to the climate in our culture these days," Coker said. "She did an excellent job reporting on the activity and how it related to what the English classes were studying. Alaina's column about why you should bring you mom to a rap concert was a very original subject matter and I'm sure stood out from other entries."
Since the Vandegrift Voice has never won a Best of SNO award, winning two in the same week made Coker's day since competition can be fierce.
"These are the first SNO awards we have won in the six years I have been here so it's a very special honor for Hadley and Alaina," Coker said. "I hope it encourages the rest of the staff to continue to write great articles as well as look for unique subjects to cover. There is no reason we can't earn a few more this year."
About the Writer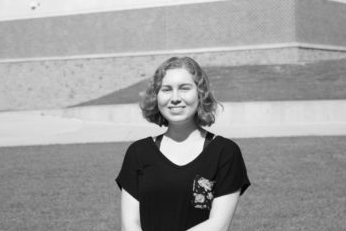 Caitlin McKeand, Co-Editor in Chief
Caitlin McKeand is a senior and this is her second year as a staff reporter for the Vandegrift Voice. In her free time, she enjoys reading, writing, archery, and dogs. Austinite born and raised. She is the Vice President of ASL Honor Society and works for the Riverplace Living Publications for the housing segment. One day she hopes to write a book.