Vandegrift students perform in Swan Lake
This Saturday, The Dance Institute will perform a gala consisting of two sections. The first section will be Swan Lake Act II where students from The Dance Institute will perform with leads Maggie Small and Mates Szentes (Richmond Ballet). The second portion of the program will consist of new choreographies for competition season along with Cervilio Amador and Melissa Gelfin, a guest from Cincinnati Ballet, dancing Romeo and Juliet and Le Corsaire Pas de Deux.
Freshman Natalie Wong will play the part of a big swan.
"I was really happy to be selected," Wong said. "It was an honor because, for professional ballet companies, those are principal parts, so me and my friend were really excited to be a part of that especially because it's the dance institute's first time doing a big ballet."
When Wong was three, her mom signed her up for dance classes at Shirley McPhail School of Dance. She then moved to 620 Dance Centre before staying at The Dance Institute later on.
"I didn't really know what I was doing. I didn't know if I liked it or not," Wong said. "I ended up liking it and having fun [at 620 Dance Centre]. However, I didn't get that much ballet training and that was what I wanted to learn. It was more tap training. Sort of a tap and ballet combination."
Wong also tried gymnastics when she took a break from dancing and found she hated it. She wanted to go back to ballet.
"I later went back to dance at Dance Institute, fell in love with it and joined their team when I was nine and I've been dancing for them since," Wong said. "In all dances, dance is just a beautiful art form, it makes me feel really pretty and I get to express things without using words. Some things you just can't express with words, so not only does it keep me active, but I have a really great time just getting to explore new art forms and different styles of dance."
Junior Jenna Simons will perform in the gala as a part of the core.
"I've been dancing since I was really little," Simons said. "It's kind of one of those things that everybody does. Like all little girls go take ballet classes and whatever, but for me, it just stuck. It's really fun, I like dancing and being active. I'm a really active person and when I'm not dancing I'm doing something else active. It's a fun way to escape from school."
Simons said she was feeling nervous and excited to perform, and that rehearsals can be intense.
"A lot of people get injured and so you have to stay on track," Simons said. "I busted my knee a while back and so I have to keep doing my physical therapy, work really hard and just try to stay safe."
Linda Holland, the studio owner and director, said this will be the first time her students will be performing with professionals on stage.
"I am very proud to be able to present a show like this," Holland said. "It has huge educational value to each of the dancers in the show. Learning the history of Swan Lake, learning the choreography and perfecting the choreography and very importantly, learning how to be a Corps de Ballet."
This is a national's year, meaning The Dance Institute will attend New York City Dance Alliance Nationals in New York, and their history with NYCDA, Holland said it seemed like a great opportunity to give back to NYCDA's College Scholarship Foundation.
"I finally felt that we were ready to take on a project like this gala," Holland said. "DI dancers are known for having an exceptional technique and looking more like concert dancers than competition dancers. Our dancers are strong enough to do a show like this."
Wong and Simons as well as Celia Handing, Payton Dougan, Gianna Vallone and Emily Martin will have the opportunity to win full college scholarships from schools such as The Juilliard School, Marymount Manhattan and Point Park University.
"Whether I am putting my dancers in front of new teachers, choreographers or having them dance in a Gala such as this, everything is for their growth and success," Holland said. " My goal is always to make sure they are prepared."
About the Writer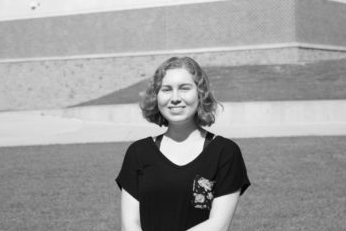 Caitlin McKeand, Co-Editor in Chief
Caitlin McKeand is a senior and this is her second year as a staff reporter for the Vandegrift Voice. In her free time, she enjoys reading, writing, archery, and dogs. Austinite born and raised. She is the Vice President of ASL Honor Society and works for the Riverplace Living Publications for the housing segment. One day she hopes to write a book.