Student qualifies for the Boston Marathon
The Austin Marathon took place on Feb. 19, and senior Vanessa Budde, who trained for less than two months,  finished just 25 minutes behind the winner- Nonetheless, that that young runner finished the race and even qualified for the famous Boston Marathon.
Because the Austin Marathon was on Feb.19, Budde began training in January.
"When I first started training for it I figured that I would just try to finish and I wasn't going to try to qualify for anything or do anything great," Budde said. "But then after I started training I realized that maybe I should actually try and set a goal for my time."
To qualify for the Boston Marathon, the qualifying time for women aged 18-34 is 3 hours and 35 minutes. Budde set her sights on this goal for her first marathon.
"I started training a lot more when I made a goal, and then at the Austin Marathon I ended up getting a 3:29:05, so I qualified by a few minutes," Budde said. "I'm pretty proud, when I first started I honestly didn't think I was going to finish the run so I'm glad that I ended up qualifying."
From December to February, Budde went from running a few miles every day in cross country to running 26.2 miles. Since she started running competitively, she has made a lot of progress.
"I started running in seventh grade and I could barely run two miles, so I guess that I came pretty far," Budde said. "Sometimes I don't like running at all. But when you race and you get a good time it's really rewarding so that makes me enjoy the sport."
The cross country coach, Colin Sully, admits the only way he assisted Budde was through checking in with her training and encouraging her. He also spoke of Budde's progress, mentioning facts like that last year he  even started her year on the JV team.
"She worked extremely hard, often meeting with other team members on Sundays to run 10 miles down at Town Lake. By the end of the season she was on varsity and competed on the state team that ended up taking seventh  place in the 6A division," Sully said. "She recently completed the marathon, well below her goal time and I couldn't be happier for her.  She found a plan that steadily increased her mileage, sometimes going on 20+ mile runs and executed beautifully on race day."
On the day of the Austin Marathon, Budde had trained for a period of about a month and a half. Although there was doubt starting out, she realized that her work would pay off.
"When I first started I did not feel good, I was thinking that maybe I wouldn't finish this at all," Budde said. "But then I started running it and I told myself that I have done this in all of my training runs, I know what I'm doing, and I can do it."
Even though Budde qualified for the Boston Marathon, it's not until April 2018. Budde hopes to do better at Boston.
"It's a different course than the Austin one, the Austin one is really hilly, and I've heard that the Boston one is flat for the most part, so hopefully I do better," Budde said. "Right now I'm prepared, but if I took a year off of running then I probably wouldn't be. So I need to stay in shape."
Right after the marathon, Budde went immediately back to training for school running, which is currently track. After training for a long distance run, she is back to running the track in short distances. In her first track meet, she got a personal record in two out of the three races she participated in.
"I didn't think I'd be able to run very fast after training for the marathon," Budde said. "So I was excited to get a personal record."
About the Writer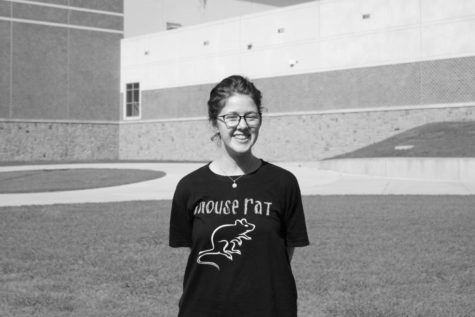 Hadley Hudson, Co-Editor in Chief
Hadley Hudson is a senior and this is her second year on the Vandegrift Voice staff. She is the Editor in Chief for the 2017-18 school year. In her spare time, she enjoys studying, reading, and participating in school clubs. She is a member of FCCLA, HOSA, and Red Cross. She is looking forward to another year in newspaper, and enjoys writing feature stories.