5th annual canned food drive begins
Starting today, if someone walks around VHS they can see big white boxes crowding the hallways. Over the next few weeks, these hollow containers will begin to fill. Then, the contents will be donated to people in need.
This year is the fifth annual canned food drive for Capital Area Food Bank. It is sponsored by the boys' basketball team, with a few other organizations helping out as well. It goes from December 1-16, and any nonperishable canned foods are acceptable. Students can turn them into boxes at the entrance of each building.
"We decided to start doing this drive because of a former player I had," boys basketball coach Cliff Ellis said. "It was Jackson Pierce a few years ago, his dad wanted to do something so he helped organize it and we kept it going."
The boys basketball team has donated to CAFB every year since the first, and VHS has donated a large amount of food over the years.
"It's such a good organization, Capital Area Food Bank, that in the last few years we have raised over 6,000 pounds of food to be able to feed families in need," Ellis said. "With being in this area and being blessed to have everything that we can need, it's our part to give back to those people that can't and don't have those kind of resources."
The Key Club is one of the organizations that are working together with the boys basketball team for the canned food drive. Because they are a club focused on doing philanthropy in the Austin area, they are doing this more local project as well.
"Key Club members can turn in their cans to Mrs. Mulligan," Key Club historian and junior Nidhi Vedire said. "They can receive one service point per four cans donated."
The Key Club sponsor, Mrs. Mulligan, has her own agenda on why Key Club is involved in the drive, other than the points.
"I like the message to the Key Club that 'hey, we're going to partner with the basketball team.' And that might not be somebody that my kids would usually partner with on anything otherwise," Mulligan said. "The more things that we can do in conjunction with other organizations, I think it creates more of a community feel on campus and I think that culture is important."
About the Writer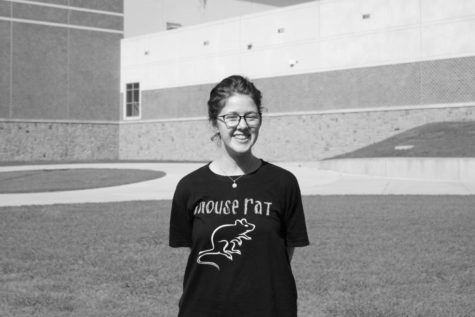 Hadley Hudson, Co-Editor in Chief
Hadley Hudson is a senior and this is her second year on the Vandegrift Voice staff. She is the Editor in Chief for the 2017-18 school year. In her spare time, she enjoys studying, reading, and participating in school clubs. She is a member of FCCLA, HOSA, and Red Cross. She is looking forward to another year in newspaper, and enjoys writing feature stories.