Four Points Homework help offers a free tutoring service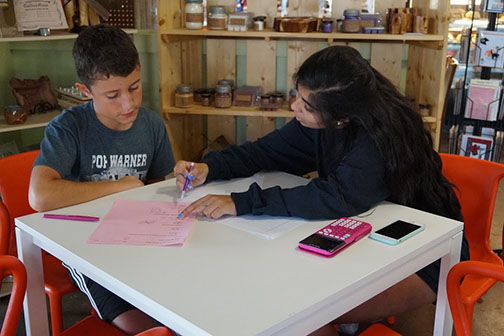 Hang on for a minute...we're trying to find some more stories you might like.
In 2012, Vandegrift High School alumna Addison Stahl started a program through the Hill Country Education Foundation (now Viper Nation Education Foundation) called Four Points Homework Help. This program is a free tutoring service offered to kindergarten through 12th grade students and is led by upperclassmen at Vandegrift High School. These student tutors are from the National Honor Society (NHS) and Peer Assistance Leadership (PALS). Four Points Homework Help starts in October and runs through late April, occurring on most Tuesdays and Thursdays from 5:00 to 7:00 pm at Cups & Cones in the Steiner Ranch neighborhood.
"Students connect with a high school student or peer while getting the homework help they need in any subject," Michelle Beck from the Viper Nation Education Foundation said. "They often feel more confident when they study and improve their skills. Students have loved the different atmosphere from home and often accomplish more during their time at FPHH."
Each year, interested NHS and PALS members apply to be officers of Four Points Homework help through their teacher sponsors. Along with tutoring, these officers plan the year, recruit volunteers, advertise the program, and provide all necessary coordination.
"At Viper Nation Education Foundation, we believe that Four Points Homework Help sparks the entrepreneurial spirit by encouraging student officers to think of ways to grow and market their organization, all while providing a valuable service to the students and parents of our community," Beck said.
As well as the entrepreneurial spirit, many student tutors have shared that they gain personal satisfaction from helping so many people.
"It's honestly just such a great way to give back," VHS Senior Carmella Quintos said. "I love that I can bring all of my friends here, and we can tutor together and just make such a big impact in the community."
Quintos also went on to share that she understands the struggle of many young students.
"I know that as a kid I always struggled with homework, and my parents couldn't really help me past sixth grade, so it feels really good to be able to help kids in that same situation," Quintos said.
The kids that are tutored have found many benefits from Four Points Homework help as well and greatly appreciate the time that the student tutors devote.
"I think student tutors can sometimes be better than adult tutors because they've just learned the material themselves and it's fresh in their minds" VHS Sophomore Michael Meador said.
Beck says that from parents, to students, to teachers, many people benefit from the support that Four Points Homework Help provides. The students get to connect with their tutors, and teachers and parents get to see better grades on the report card.
"The number of testimonials from students and parents alike grows every year. We've had parents tell us that their student was excited about math for the first time after being tutored by a high school student. The connection some students have made with their tutor is so positive that it truly makes a difference in learning and building confidence."