PTSA secret pal program spreads gifts and encouragement to teachers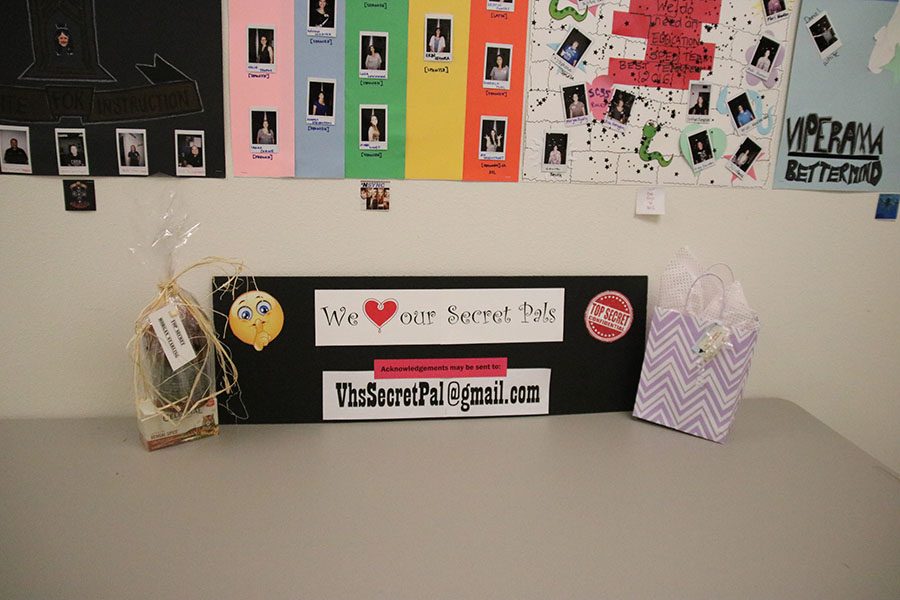 Santa isn't the only gift giver this year.
This year there's a new program hitting the school, the PTSA Secret Pals Program. Currently consisting of 96 members, the program takes anonymous parents and pairs them up with a teacher in order to send them goodies and encouragement throughout the year.
"I wanted to introduce the secret pal program to Vandegrift teachers and parents because we had so much fun with the program back in Houston," VP of the Pals Program membership Carla George said. "My hope is that teachers will feel appreciated and that parents will feel more involved and a part of the Vandegrift community. Sometimes parents feel like once their student reaches high school (or even middle school), their participation in school activities is no longer needed."
When George moved from the Cy-Fair school district in Houston six years ago, she was disappointed to learn that the middle school and high school her younger son would attend didn't have any such activity.
"The program allows parents to feel connected and teachers to feel spoiled and appreciated," George said. "The teachers love receiving the gifts, and the parents and community members enjoy giving them. We even had several parents who volunteered to take more than one teacher."
Since the teachers don't know who the parents are, when they receive a gift they can send a message to a special email account that will be forwarded to their secret pal.
"When I've participated in programs in the past, teachers would write hand-written thank you notes which would be delivered to the student during class," George said. "I decided to simplify the process by utilizing the [email protected] email account."
It's not just the parents that have kids in high school either.
"We also have several community members who do not have students at VHS participating in the program," George said. "For example, we have a former parent, a business (Big Frog T-Shirts), and a community member from Austin Baptist Church who have signed up to sponsor a pal. There is a lot of excitement going on in the VHS community over the program."
The excitement certainly isn't limited to the parents on the giving end.
"It made my day when I received my first secret pal gift last week," Algebra and Statistics teacher Rebecca Bumpas said. "It is so easy to get overwhelmed and bogged down with the workload that comes with teaching that knowing someone is out there thinking about your well being and rooting for you is really encouraging. It has been really fun seeing my co-workers receive their gifts too. Everyone lights up when they get one."
Bumpas found it really meaningful to get such support from the parents that entrust their kids to their teachers everyday.
"Receiving a little something in my mailbox during a tough stretch, like now until Thanksgiving break, could help me get over that 'Fall Wall' that we all struggle with," Algebra teacher Mike Meadows said. "We all have a common goal of making Vandegrift as great as we possibly can for students. This program is just another way to bring teachers and parents closer together in achieving that goal."
AP U.S. Government and AP Capstone Seminar teacher Nina Legg shared her opinion on the program as well.
"High school teachers don't have the opportunity to connect with parents like elementary and middle school teachers," Legg said. "Parent volunteer opportunities are generally outside of the classroom and we don't have many occasions to get to know one another. Programs like this one help to bridge that gap. Overall it is a reminder that parents and teachers are working together and that educating kids is a team effort."
Parent Keri Wootton gave the perspective from giving.
"Putting together a gift each month and getting creative in how it's packaged," Wootton said. "I live for that stuff personally! How fun to take a few cans of a teacher's favorite soda or tea or a few snacks and finding a creative or festive way to package them."
Wootton explained how to become a pal as well, just not who she's a pal for.
"Once we got matched with our pal we received via email a survey of sorts from our pal with a list of things they like to eat and drink places they like to out to eat as well as items they need for their classrooms and a bit about their life outside the classroom," Wootton said. "It was made so easy."
The teachers mentioned how excited they are to be able to meet their anonymous pal, and they'll get their wish soon.
"Sometime in May, the PTSA will sponsor a big "Reveal Party" where teachers will come and find out which secret pal has been delivering their goodies all year," George said. "The secret pal's student(s) will also be invited, if they choose to attend."
As of right now, all of the teachers who have signed up are matched with a secret pal. George is still receiving a few forms each week and the link for parents who would like to participate is located on the PTSA website under the "Secret Pal" tab.
"I am hoping the program will be such a huge and fun success that we will be able to continue the program for years to come," George said. "I also hope to raise awareness about the program so that in future, there will be so many parent participants that we will be able to open the program up to all faculty members (not just teachers)."
About the Writer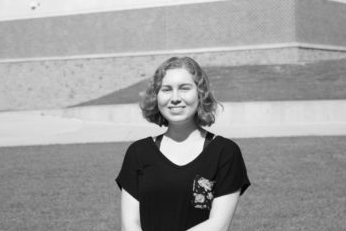 Caitlin McKeand, Co-Editor in Chief
Caitlin McKeand is a senior and this is her second year as a staff reporter for the Vandegrift Voice. In her free time, she enjoys reading, writing, archery, and dogs. Austinite born and raised. She is the Vice President of ASL Honor Society and works for the Riverplace Living Publications for the housing segment. One day she hopes to write a book.