Choir performs at SWACDA Convention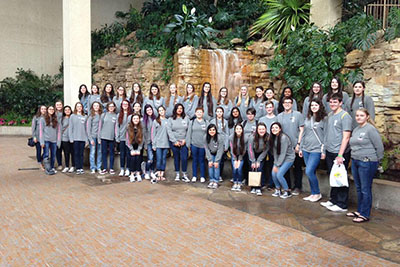 The chorale women's choir recently attended the Southwestern Division Conference,"Then Sings My Soul," hosted by the Southwestern American Choral Directors Association (SWACDA). The event was held on March 7-10 in Kansas City, Missouri. The group was invited as the 2015-2016 SWACDA Honor Choir. They arrived at the event on Sunday and came back Tuesday after performing at the convention.
"Singing on stage is truly the most joyful experience I have ever had," senior Alayna Thomas said. "Our choir always leaves our hearts on the stage. It was a blessing to sing with the 39 other amazing musicians in Chorale Women."
On Tuesday, the choir performed a 25 minute concert in The Kauffman Center at 11 a.m. at the convention. The group of 47 choir students performed seven songs they have been working on since September and had recently performed at the Texas Music Educators Association (TMEA) conference. The selection was composed of an uninterrupted "folk" set, a "world" song and an uninterrupted "sacred" set.
"This performance is essentially our choir's baby," senior Breenagh Newton said. "We finally got to show it off to a space filled with thousands of professional musicians and directors."
The choir was selected out of various high schools in five states to perform at the convention, and were able to perform for professionals in the musical world while there. After the performance, the choir got to see the city, and visited the Da Vinci exhibit and an interactive science center in downtown Kansas City.
"We all had a great time, and learned so much while we were there," sophomore Kristen Novit said.