Jen Perry performs the role she created in Kinky Boots on Broadway
Reaching Broadway is the dream of any theatre student. Not only do very few make it, but very few comprehend the sheer amount of hard work it takes to get there. The work doesn't end when someone lands a role either. They then have to attend rehearsals or performances six days a week for about eight hours every day for, usually, about a decade. Jen Perry is one of the very few who gets the opportunity to live her dream after countless auditions and callbacks. Now, she performs on Broadway almost every night like any theatre student dreams to do, and in addition she gets the satisfaction from knowing that she created part of the show that millions are raving about.
Perry is an alumni of the University of Michigan. She graduated with a degree in Communications, however she participated in everything musical theatre that she could during her years there. She participated in most school shows, including  productions through Musket, and joined choir and acapella groups. After school, Perry worked in Detroit. She was a singing waitress at a restaurant called On Stage until she was 23, then she moved to New York.
"I did everything musical a non-musical major could," Perry said.
With the help of her agent and after multiple auditions and callbacks, Perry booked the role of Rosie in Mamma Mia! on both Broadway and in Las Vegas. She remained with the cast of Mamma Mia! for about 14years beginning in 2001. She also toured with Spider-Man: Turn Off The Dark for about three years in 2011. Off-Broadway, she has been in productions of Hairspray, Annie, Chicago, Idaho the Musical, The MUNY and many more with various companies and in multiple cities. On television she has been involved with The Big C, Two Twisted, True Blood, Late Night with David Letterman and Good Morning America. She also was seen in Get Him to the Greek and Spring Breakdown and can be heard in Frozen as one of the troll voices. She is currently on tour with Kinky Boots on Broadway (as Trish and an ensemble member) and has been since 2013.
"Mamma Mia! was the turning point for me," Perry said. "Although I prefer character acting, it was nice to have a featured role."
Perry created the role of Trish in Kinky Boots. She worked closely with creators Jerry Mitchell, Cyndi Lauper and Harvey Fierstein and wrote the lines for her role. She performs in eight shows a week, with only Mondays off, while raising her 7-year-old son. There are seven other companies performing Kinky Boots, but Perry is with what is left of the original New York company.
"Whenever the original company was out of town performing shows in Chicago we just had each other and that created a close bond between us," Perry said. "It's great to look at the other companies and know that I wrote that [character]."
In the future, Perry would like to book something long-term in either television or film. However, she would love to play the role of Madame Morrible in Wicked someday. She also enjoys performing as a character actress and would like to continue creating roles for shows.
"My advice to aspiring actors or actresses would be to not give up," Perry said. "You are going to get rejected sometimes, but if you work hard and try not to be anyone but yourself then you can make it."
About the Writer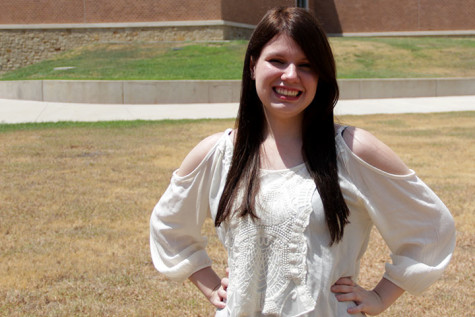 Alaina Galasso, Editor in Chief
Alaina Galasso is a senior at Vandegrift and this is her third year on the newspaper staff. She competes in journalism for Academic UIL and was previously sixth in district for Feature Writing, fourth in district for News Writing, first in district and region for Editorial Writing and second in state for Editorial Writing. She also works as a professional theatre technician outside of school and is an active member of the school's theatre department. She is currently the department's head stage manager but has participated in lighting, run crew and sound since she was a freshman. For her work in theatre she is a 9 star International Thespian and current secretary of Thespian Troupe 7613. She has also been involved in Student Council, the HCEF Inventeam, National Honor Society, Vision Dance Company, AVID and Latin Club throughout high school. She hopes to attend a top university up north and plans on majoring in Theatre Design, Production, and Management with a minor in Creative Writing.