Vandegrift senior releases song on iTunes
Hang on for a minute...we're trying to find some more stories you might like.
Publishing a song on iTunes is the dream of any artist, especially those who remain undiscovered. This summer, senior and amateur musician Madison Whitesides achieved that dream, before graduating high school.
Her song, titled More than Friends, was released on August 5, 2015 and currently costs 99 cents. She chose to perform this song to promote herself to college admissions and other interested parties.
"My voice teacher actually composed the song, and he wanted me to be the lead vocals on it," Whitesides said.
Whitesides has been involved in music since she was young, having her first solo performance in her school's fourth grade play. She joined choir seven years ago, and has remained a member since. Her plan is to major in vocal performance at the University of North Texas, and hopes to open her own vocal studio when she graduates.
"
I really want to be a professional musician when I grow up. I thought that it would be a really good way to launch my career."
— Madison Whitesides
Though recording a song is often expensive, Whitesides was able to use her voice teacher's equipment to develop her piece, and therefore avoided many of the costs associated with the process. She has not yet received any royalties from the song, with the explanation that  iTunes has not released any data relating to purchase of her song.
"It's a nice thing to have money with it, but it was really more for getting recognition," Whitesides said.
Feedback from the song has been overwhelmingly positive. Whitesides has received many compliments pertaining to her music from her friends and family, and reviews on iTunes extol her talent.
"I think that she put a lot of hard work into it," senior Breenagh Newton, friend of Whitesides, said. "It is a beautiful piece and I'm really proud of her."
However, Whitesides herself describe several parts where the quality could be improved. Overall though, she is pleased with how the work turned out, especially considering the time constraints involved. While this experience has not radically changed any of her future plans, it has strengthened her determination to her current path.
"It has really reinforced in me the idea that this is what I want to do for a living," Whitesides said.

About the Writer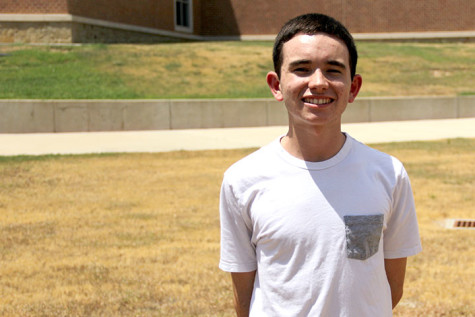 Johnny Morreale, Writer
Johnny Morreale is a staff writer for the 2015-16 school year Vandegrift Voice newspaper. He is fond of the written word and reads frequently, though not as much as he used to thanks to the soul-crushingly large amount of homework he now has every night. When not at school, he swims, studies and works at the River Place Country Club.