Broadway and desserts and choir, oh my!
Hang on for a minute...we're trying to find some more stories you might like.
Tuesday night the choir held a Broadway Night. Through a progression of three acts, 30 performers sang their favorite songs from Broadway musicals. Songs ranging from "The Sound of Music" to "Pippin" were sung. Between acts, attendees were welcomed to a variety of cakes, cookies and many other dessert options.
Junior Alayna Thomas sang "You Learn to Live Without," originally performed by Idina Menzel in her musical, "If/ Then." After seeing Mendez live this summer, she knew she could relate to the song. Both Thomas and Mendez's character, Liz have learned to live without someone they are close to. For the entirety of November, she practiced, singing in her car, at her house and whenever she had the chance.
"My legs would NOT stop shaking during the performance (which was kind of funny in hindsight), but other than that, I thought it was of one of my better performances since I've been a part of VHS choir. My favorite part of the night was when Act 2 was up and everyone ran over to me. It was so humbling and I couldn't stop smiling," says Thomas.
Senior Aaron Daniels performed "Corner of the Sky" from the musical, "Pippin." The choice was inspired by the way it matched Daniel's voice. He also felt that the song was something fun to sing. An hour a day for several weeks allowed Daniel to perfect his performance.
"I felt like I had a decent performance. Nothing ever goes perfect and I had to go to the bathroom really badly, but it went well anyways. My favorite part of the night was seeing everyone else perform! Every always does better and better each year. Broadway night is one of my favorite choir performances that we do, plus, there's endless desserts," Daniels said.
Junior Jessica Pronga sang "Stars and the Moon" from "Songs from a New World." She happened upon it by coincidence. Her friend wanted the song that she had originally chosen, and she just happened upon this one by chance. In September Pronga learned the song, and ever since Region Auditions she has been diligently practicing.
"I was kind of disappointed in my performance because I missed a line. But when I was watching the recording it wasn't as bad as I had played out. My favorite part of the night was hearing everybody else's song. I didn't know a lot of them and it introduced me to a bunch of new musicals. It was a very successful night overall," Pronga said.
About the Writer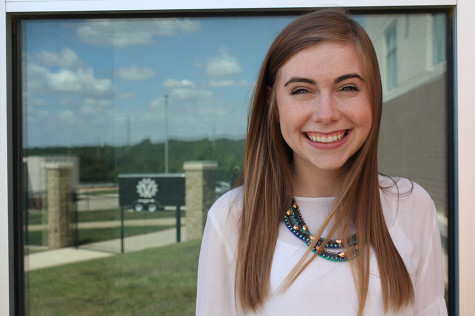 Lauren Conroy, Staff Writer
Lauren Conroy joined the Vandegrift Voice newspaper staff this year. She is the Student Council's executive historian, a C2 platinum member and a member of the National Honor Society. In her free time she enjoys volunteering in the Labor and Delivery department at the local hospital, shopping with her friends and taking her puppy, Murphy on walks. Lauren hopes to attend Wake Forest University and major in business. Eventually she hopes to go to medical school, become a neo-natal surgeon and open her own medical practice.