Volleyball completes service project to benefit Austin's homeless shelter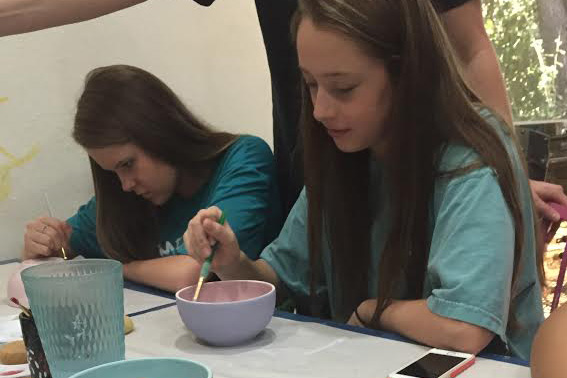 This past Sunday all the volleyball girls volunteered at Ceramics Bayou to paint bowls, and brought canned goods to donate to area homeless shelters.
"We always do a service project every year," senior Caitlyn Hyde said. "This year we painted bowls that will be auctioned off for money and also donated canned goods."
The bowls will be auctioned off at the Austin Empty Bowl Project which will be held on November 23rd at the Marchesa Hall and Theatre. All the proceeds will go to homeless shelters around Austin.
"It is a super fun community service project," freshman Natalie Duffield said. "It was my first time participating it in and I had so much fun. You get to have a good time with your team and help out the community at the same time."
The girls got to be creative and design their own bowls as well as paint them. Then Ceramics Bayou will send the bowls off to the auction where they will be sold.
"We have been doing this type of community work since we opened," artist Angie Miller said. "It goes for a great cause and painting is always fun to do."
The volleyball team also collected and donated cans that will be sent to homeless shelters in Austin. The team was able to donate over 250 pounds for the cause.
"The canned goods are just something extra that we do," junior Amanda Sanders said. "The cans will help feed the homeless and will give the food banks more supplies to last through the holidays."
Senior Kristen Guerra said it's always fun to do something nice for someone else because Service above self is an important life lesson.