Taking a "Leap of Faith"
Student band performs concert at Lakeside Pizza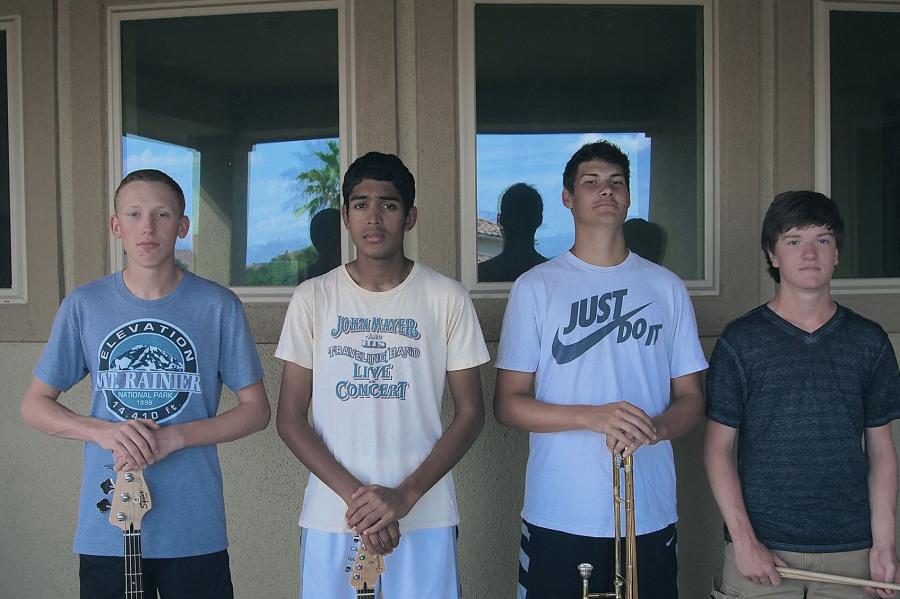 It can safely be said that becoming Vandegrift-famous was not expected by the four band students who call themselves "Mr. Viktory and the Kings." Their story began with two guys writing songs and playing guitar in a bedroom with a Mac computer keeping the beat. The group has ultimately grown to four musicians who are now recognized as a genuine band that plays gigs around Steiner Ranch.
The group was originally started by seniors Vikram Sundaram, guitarist and lead vocalist, and Austin Gray, bassist. Senior and trombone player Cody Shelton was next to join, followed by junior Torin Maguire who joined towards the beginning of the summer.
"I'm just Mr. Viktory. [They're] the kings," Sundaram said. "We kind of balance each other out in that respect."
The band's first real gig was at Relay for Life last year. They played towards the end of the night in the cold, with an electronic drummer and a fragile trombone.
"I have a starkly different instrument," Shelton said. "They're going to hear it and they're going to judge my sound. It's just hard to impress so many people."
The group held practices often on Saturdays throughout the summer. Although with school, family, friends and marching band crowding the schedule for the whole group, finding time to practice became a problem. The group is currently on hiatus, at least until the end of marching band season.
"With marching band they tell you exactly what to do, they tell you exactly how to do it, and if you don't do it that way it's wrong," Maguire said. "With Vikram's band I am in control. I can do what I want, how I want it and I can put my own personality in it. It's really enjoyable."
The band has gotten a surprising amount of publicity especially after they played their "Leap of Faith" concert at Lakeside Pizza on Sept. 6. Countless friends and family members came to watch and support the band. Even strangers occasionally stopped and listened to the music.
"It was certainly a surprise for everyone," Maguire said. "I didn't expect so many people to come and honestly, none of us did."
Possibly the biggest highlight for most at the Lakeside concert was when the band played the famous One Direction song, "What Makes You Beautiful." Spectators gathered around the stage, sang and danced along to the rendition of the song. A video of the song can be seen on the Mr. Viktory and the Kings Facebook page as well as their YouTube channel.
"The feeling after you put out a good show is kinda the same [as marching band]," Gray said. "It's amazing."
About the Writer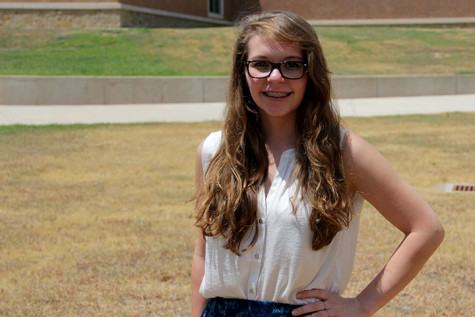 Laura Figi, Web Editor in Chief
Laura Figi (though commonly referred to just as "Figi") is the Web Editor-in-Chief for the 2015-2016 year. She enjoys writing and competing in UIL for the journalism team. Laura is Historian of the French National Honors Society, and a member of French Club and Philosophy Club. Outside of school Laura enjoys playing ukulele, singing, taking pictures of bands and downtown Austin, and playing video games. Laura plans to go to college in-state and study newspaper/broadcast journalism, photography and French.