VHS Student Council Success
Student Council held their first meeting of the school year Friday during PIT under the leadership of student body president Madison Smith.
"I feel like the meeting went really well," Smith said. "In addition to being informative, we worked to make it interactive and fun."
The meeting debuted Student Council's new point policy and announced that, unlike last year, they won't kick students out for lack of points. They also introduced "The Hype," a group of students who will attend all sporting events and try to get the crowd hyped for the team. The officers closed the meeting with a series of games to get students involved and even rewarded the winner with candy.
"Our hope is that students genuinely enjoy Student Council this year," student body Historian Lauren Conroy said. "We don't want the meetings to be something they have to go to, but something they want to go to"
Even though this was their first official meeting, this year's Student Council reps are already off to a great start after hosting Vandegrift's most successful Homecoming dance to date.
"I think the most important thing I've found about being president is that you always have to think outside of the box," Smith said. "I think our Homecoming dance was such a success because of our creative Austin theme.
The dance, which was designed to represent downtown Austin, included many local food trucks, recreations of some of Austin's signature wall murals like the "I love you so much" wall and even some free cotton candy. In addition, senior Jake Nanez, or DJ fivestar, provided music for the night. Student Council ended up earning a total of over $5,000 from the dance.
"We were so thrilled that people actually showed up," Smith said. "Especially since we put in so much hard work."
Now Student Council is preparing for the upcoming election of freshman representatives. Freshman who are interested in running need to attend a mandatory meeting on October 2nd.
"All freshman should feel welcome to run," Smith said. "It's going to be a blast. We have such an awesome group of officers already and I just know we are going to do great things."
Leave a Comment
About the Contributor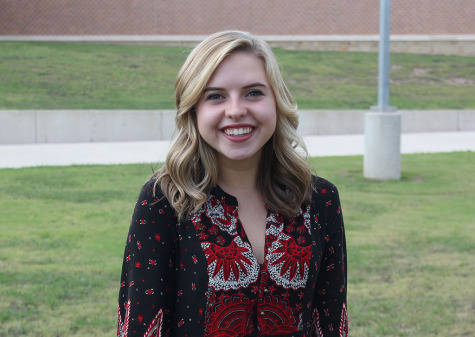 Kelly Honts, Web Editor
Kelly Honts has been a part of the newspaper staff since her sophomore year in 2012. She is the Vice President of Vandegrift's choir program and very involved...