Band Spotlight: Coldplay
Coldplay is a British rock band that is known for famous songs such as "Viva La Vida," "The Scientist," "Fix You," "Yellow," "Paradise" and most recently "Magic". The band begun while the lead singer and lead guitarist were at the University College London and spread from their. Currently the band has four members: lead singer Chris Martin, lead guitarist Johnny Buckland, bassist Will Berryman and drummer, backup vocalist, and other instrumentalist Will Champion.
They released a new album titled Ghost Stories in May and it has remained at the top of the charts for weeks after it was released. The album is described to have stepped back from the intense rock of their other albums and settles into a more somber, smooth rock feel. The album has gotten mixed reviews, the majority positive, for the new electronica elements the band included.
Coldplay first found success through their album Parachutes in which "Yellow" made the top five of the UK charts. Their next album, A Rush of Blood to the Head, became even more popular with songs like "In My Place," "The Scientist" and "Clocks". X & Y came next with songs like "Fix You," "Speed of Sound" and "Talk". Viva La Vida or Death and All His Friends  was released with leading single "Viva La Vida". More recently in 2013 the band finished recording Mylo Xyloto and achieved much success with songs like "Paradise," "Princess of China" and "Every Teardrop is a Waterfall". The band has also released singles for movies, including "Atlas," which was created for Catching Fire of the Hunger Games trilogy.
The band has won a total of 58 different awards from multiple countries and has been nominated for 187. They have been nominated for 25 Grammys and have won 7 total. The majority of their awards come from the Brit Awards (the Britain equivalent of the Grammys). They have won 8 and were nominated for 21.
Overall Coldplay is a diverse band that is willing to try new sounds for each of their albums. They are noted for their incredible live experiences with energetic Chris Martin leading. Their songs range from the dark to hopeful to upbeat. One of their most famous lines that they actually use in two songs says "If you never try you'll never know," and the world is definitely glad they tried their hand in the music world.
About the Writer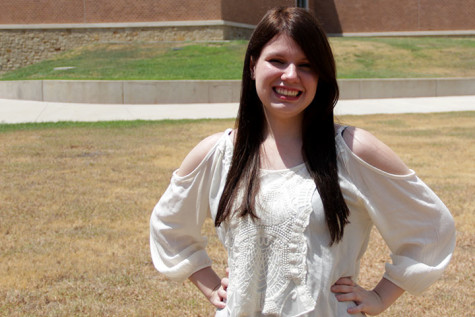 Alaina Galasso, Editor in Chief
Alaina Galasso is a senior at Vandegrift and this is her third year on the newspaper staff. She competes in journalism for Academic UIL and was previously sixth in district for Feature Writing, fourth in district for News Writing, first in district and region for Editorial Writing and second in state for Editorial Writing. She also works as a professional theatre technician outside of school and is an active member of the school's theatre department. She is currently the department's head stage manager but has participated in lighting, run crew and sound since she was a freshman. For her work in theatre she is a 9 star International Thespian and current secretary of Thespian Troupe 7613. She has also been involved in Student Council, the HCEF Inventeam, National Honor Society, Vision Dance Company, AVID and Latin Club throughout high school. She hopes to attend a top university up north and plans on majoring in Theatre Design, Production, and Management with a minor in Creative Writing.