Junior Sofia Asif Wins Art Competition
Hang on for a minute...we're trying to find some more stories you might like.
Junior Sofia Asif was recognized at the Regional Scholastic Art and Writing Competition, hosted by Saint Stephens Episcopal School in Austin, winning the Gold Key award for her exceptional artwork. Her work will be on display at the Parsons School of design and the Pratt Fine Arts College in New York.
"In the picture, the scarf is coving [the man's] face. I think this represents me, I'm shy and reserved," Asif said about the piece.
Asif was nominated by her art teacher, Mr. Deardorff for her artwork, entitled The Scarf. Two fellow students were also nominated. Her piece was the only artwork from Vandegrift to receive a Gold Key, the highest award in high school visual arts. Over 255,000 entries were submitted, and Asif's work was among the top 1,000. Although there is only one level of competition, the piece went through two panels of judges, both at a regional and national level. After June, the art work will be a part of a year-long tour through the U.S., touring with the "Art.Write.Now" exhibition.
'I'm looking forward to the whole experience. I'd love to be able to see all of the different people who also won awards, and see what they did. I've never been to New York, so I want to see [the city]," Asif said.
After the tour, the artwork will be on display for one year in Washington D.C.
"I'm extremely proud of Sofia and her accomplishment. She's a very talented artist who deserves recognition for her hard work and skill," Deardorff said.
About the Writer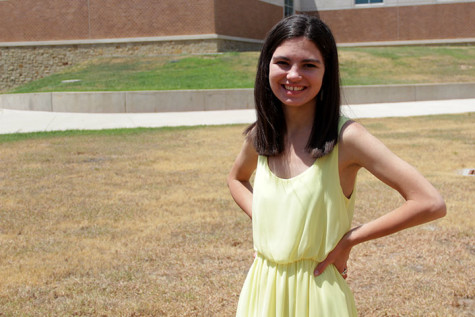 Emma-Rose Floyd, News Editor
Emma-Rose is a senior at Vandegrift. She has been a part of newspaper since her sophomore year. Positions she has held include Social Media Manager, and News Editor, a position she has had for two years. Emma-Rose  is also an active member of Key Club, dances in her free time and is a member of the UIL journalism team. She hopes to major in communications in college and become a full-time journalist.