Man's best friend: Sophomore trains guide dog
For most weary high school students, a long day of class is far enough. But for one sophomore, when the traditional school day ends, another one begins. Her student? A drooling, 70 pound black lab.
Sophomore Elly Johnson spent eight months training a guide dog with Canine Companions this past year. Magnolia, who came to her as a three-month-old puppy, was Johnson's first introduction to dog training. Magnolia graduated earlier this year.
"Someone at my church would bring her training dog in every morning, and we became friends," Johnson said. "She let me come in and see what it was all about when I told her how much I love dogs, and helped me search for a dog. And that's how I met Magnolia."
Dogs in the Canine Companions program are trained over the course of six to nine months, and their trainers are required to bring them into classes weekly to be assessed.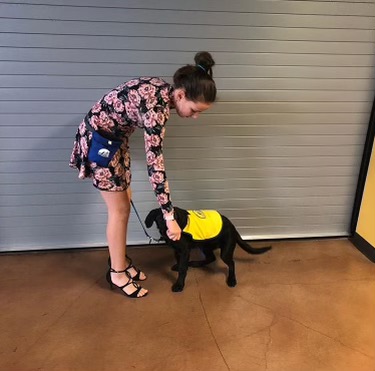 "They have so many dogs, and they have less volunteers than dogs," Johnson said. "So if you're not doing a good enough job getting your dog where they need to be, they will kick you out. It's a big deal when you're taking care of a living thing, especially when they have to go on to help people in need."
At the end of their training period, the dogs are given a final exam at their local center. Trainers are prohibited from attending the exam with their dogs, and are kept in the dark while they are tested.
"I'm so proud of the fact that my dog graduated, because it's a lot of hard work," Johnson said. "And a lot of the dogs don't graduate, because they have to be so perfect at everything. So to know that all my work paid off, and that my dog made it through training and now has an owner just made me really happy inside."
By the end of their training, Canine Companions dogs are qualified to assist people with a wide range of disabilities. Magnolia was tested on each of these skills, and now lives with her new owner in California.
"Magnolia was trained to have all the skills, and the ones that she did best and was the one she was applied to," Johnson said. "She now helps a military vet with his PTSD. And he is also an amputee, so she helps him get around as well."
Training a guide dog doesn't come without its challenges, ones that Johnson and Magnolia had to learn to overcome together.
"There's a lot of pressure on you because you know, this dog is going to go to an important person who needs them," Johnson said. "If you're not doing your job right, that dog won't be able to do its job as well, either." 
Johnson and Magnolia faced these challenges together, and by the end of their training, the two were inseparable.
"I had so much pressure on me to make sure she did well and got to where she needed to be," Johnson said. "I almost wanted to be able to keep her because like it's, it's your dog, you've bonded. And to know that even though I had to give her up, she has a loving owner now and she's helping someone makes me feel so relieved."
Over their months together, Magnolia wasn't the only one learning, Johnson said. Together, and with the help of other people in the program, they beat every obstacle in their path on the road to finding Magnolia her place in the world. Now, Johnson has begun the process of searching for her next dog.
"The connection that you make trying to get these dogs to be able to help people is unforgettable," Johnson said. "I will always remember all the people that I've met, and I'm going to meet because of this program. And Magnolia will always have a special place in my heart."