Making new PALS: LISD PALS attend PALS Picnic after two year break
The large group of high school students made its way underneath the pavilion. They were bound by a shared love of fun and leadership, and they hoped that the day would exemplify both. By the end, after all the food was eaten and all the games packed up, they would walk away with inspiration, unique games and new friendships.
After a two-year break, Vandegrift students attended the PALS Picnic along with PALS from Cedar Park, Leander, Glenn and Vista Ridge high schools. In addition to the food and activities present at the event, PALS also got to meet others passionate about the organization and collaborate on ideas for the upcoming year.
"Today has been just really fun because we've gotten to spend a lot of time with all the PALS from the other schools, and see what kind of things they do at their school," senior and PALS Officer Ashley Benedict said. "We got a lot of ideas on how we can improve our program, grow it, make it more like all the other schools, have a lot more fun and be a lot more collaborative."
The day consisted of many group activities in which all the PALS present would interact with others, regardless of their school. One way this was done was through the "look-up" game where students would stand in a small circle, look down and up and try to avoid eye contact with another student. If they locked eyes, they had to quickly run to another group.
"I loved doing the look-up game where you had to move to a different circle cause you had to meet a lot of people really quickly," Benedict said. "It kind of eliminated the awkward transition period of having to introduce yourself and you're just automatically thrown into the situation."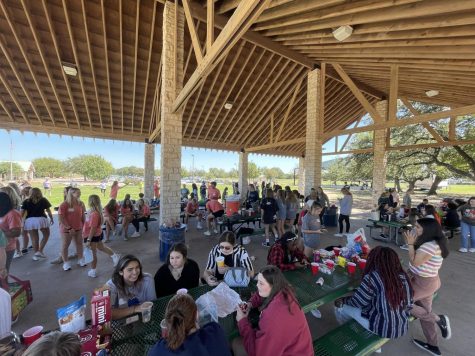 Junior Dino al-Sayyed agreed that the games and activities made the day enjoyable and memorable. However, al-Sayyed said that the plethora of food present added to the fun as well.
"Today I've been eating a lot," al-Sayyed said. "I've been having fun walking around, playing SpikeBall, talking to my friends, making new friends and getting to know each other."
The event lasted all day, so while some students might have been stressed because of missing out on assignments, al-Sayyed said that the time away from studies was nice. He added that overall, the feeling at the picnic was very positive and uplifting.
"The vibe here is really positive," al-Sayyed said. "Everyone's having fun, and it's nice to have time off of school."
Once the bonds were formed through activities, the instructors then directed students to sit down with smaller groups of PALS from different schools. Students were asked to discuss their hobbies, favorite parts about PALS and ideas on how to improve their respective programs.
"I think there will be a lot more collaboration between the schools since the past year has been virtual and the year before that we didn't do this picnic," senior Ashritha Chandy said. "This year we're finally getting to meet people from other schools again and I feel like new friendships have been formed."
Chandy believes that forming these bonds with those across the community epitomizes being a PAL.
"It's all about getting together with people who might be different from you," Chandy said. "Getting to know them and just having a good time is what PALS is."
Benedict agrees with this, however she hopes that students left the picnic feeling closer with their school's PALS as well. She said that because of virtual learning last year, having fun as a large group was needed and appreciated.
"It's been a lot more fun just getting to spend time with your class and get to bond a lot more cause we're actually in person," Benedict said. "So we got to spend a lot more time together and grow as a class and as a community more so than last year."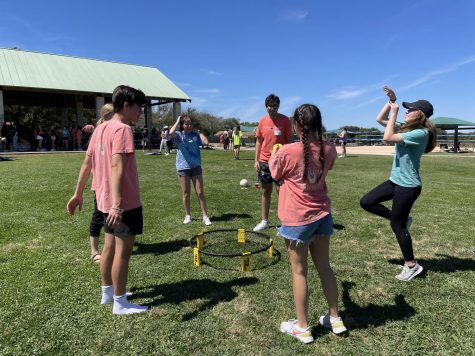 Benedict also hopes that the picnic helped PALS get excited about the opportunities coming up this year. With new ideas on how to make the school year great, inspiration for working with PALees again and new friendships formed between PALS at other schools, Benedict said that the picnic was a great way to grow as a community.
"I think this just made us a lot more excited for the year, a lot more social, even within our own program," Benedict said. "It's definitely given us a lot of activities, opportunities and ideas to do more things with each other in our own program and with all the feeder schools. So it just helped us to grow a lot as a community."