Nicholas Benson Teacher Profile
For around two years, Nicholas Benson has taught various business classes, however he has more to his story and resume than being just a regular teacher.
Before becoming a business teacher, Benson was actually a businessman. He worked for a variety of companies in various roles ranging from manager-level positions for restaurant groups to being an auditor for human resource teams. However, he eventually decided that this kind of work was not fit for him and began to look for a new job.
"I made the change for quality of life and ethical reasons," Benson said. "The positions I tended to have required travel and extensive hours and I was looking to spend more time with my family while utilizing my skills and experience to give back in some way to the community"
Benson got into the field of business when he decided that if he knew more about how businesses functioned, he could get a better position within a company. He feels that it is a critical subject that should be taught more in schools, since it is extremely pertinent to having a career. He went on to get a BA in Business from Concordia University.
"It would have been very beneficial to have the opportunity to gain a higher understanding of business at a younger age like students at VHS have today," Benson said.  "I needed to have a better understanding of the overall operations and strategy of a business if I wanted to be considered for a better position."
Benson found that the teaching field was an area in which he could best use the various skills he learned as a businessman and transfer them to the next generation of workers and managers, who Vandegrift students will eventually become if they haven't already entered the workforce.
"I love that I can transfer much of what I learned through trial and error into the classroom to my students and bring that real-world experience to enrich the lessons," Benson said. "As a professional, I am always trying to improve my approach and come up with new ways to engage students in the material and stay flexible."
However the introduction of COVID-19 for his second year of teaching has brought on many hardships. Due to the barrier between student and teacher, many students are oftentimes refusing to do their work, resulting in one of Benson's top priorities being to give students the motivation to do their work.
"Keeping students engaged, interested, and participative has definitely been a challenge this year," Benson said. "This is my second year teaching, so I am still picking up some tricks of the trade here and there."
Another change is the prevailing use of technology to teach. In the past, Benson would use technology to augment the classroom, but now he can only teach through technology. With this in mind, he is putting effort into making his classes as efficient as possible.
"I would say that [technology] has been the biggest change because it changes the whole dynamic of the classroom with the students not being in the room," Benson said. "I've had to become much more efficient in the way I convey the material."
About the Writer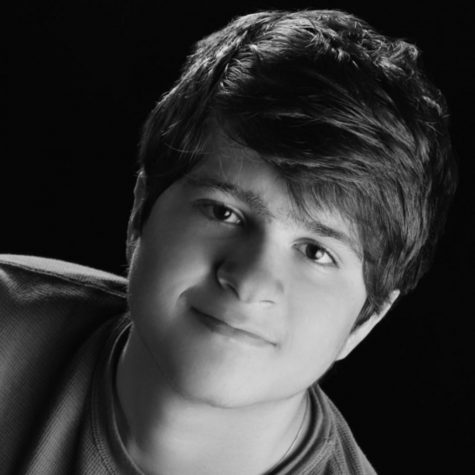 Nicholas Scoggins, Staff Reporter
Nicholas Scoggins is a junior and this is his second year on the newspaper staff. In his free time, he enjoys traveling, reading and participating in military reenactments. After high school, he hopes to pursue a military career.