Singers go to finals
Vandy Choir singers make it as finalist in a singing competition
On Feb. 3, sophomore Maura Connors and senior Riley Galligher found out that they made it as finalists and would represent Vandegrift in the Concordia University Texas Young Voice Competition. Posting of recordings and announcement of winners will be on Feb. 27. The winner of the competition will receive $500.
"I was so excited when I found out I made it as a finalist," Connors said. "Competitions are such a great way to practice performing in front of others and getting feedback from judges. It's also a great way to put yourself out there and learn and grow as an artist."
The Concordia University Texas Young Voice Competition is a competitive singing competition hosted by Concordia University. Students get the chance to showcase their singing abilities through songs sung in a different language. 
"I've been working on the same repatare for the same competitions," Galligher said. "My last competition was a month ago, and I used the same music I did for the competition for my audition."
Galligher said that she's really excited about making it to the finals with Connors.
"Connors and I met a couple of years ago in choir," Galligher said. "We both used to do Conspirare Choir except I was in it for a year and left a year later, the year she joined. It has been unfortunate that we haven't been able to get close ever since COVID-19, but we would talk to each other."
Even with COVID-19, the competition will still be happening live. People are given a specific time to go in, and you have to warm up outside. Masks will be worn while singing and the room will be aired out before the next singer can go in. 
"Singing in front of others can be nerve-wracking," Connors said. "Putting myself out there only helps me grow and I'm really excited to record at a university."
Due to COVID-19, singers got longer time to submit their recordings and had to do them virtually this year. 
"Students used video submissions this year for judges to evaluate virtually," Connors said. "Video submissions will also be used for finals as well."
Galligher thought she didn't have a chance at making it to the final round. 
"The biggest problem I have is my performance skills," Galligher said. "I overthink on my performance and always think something is going to go wrong and I never bring out my performance more. If I continue working on that skill I would probably make it in the top three, but the other singers are amazing as well."
Connors and Galligher said their biggest supporter is their voice teacher, Natalie Cummings. 
"She is my biggest supporter," Connors said. "She has taught me so much the past couple of years and I feel like I've grown so much because of her. She even encouraged me to do competitions in the first place."
As a senior, and this year being her last year singing with Vandy Choir, Galligher is really glad to have this opportunity. 
"Last year as a junior, I didn't really make it as a finalist for solo competitions so it's just great that I have an opportunity for this even during COVID-19," Galligher said. "It's so amazing how we get to see this virtual interaction, I just miss the in-person interaction a lot more and getting to sing with everyone."
What Connors feels is the most important aspect of these competitions is getting the chance to learn how to perform.
"This one of the first competitions I've done and I've learned so much already," Connors said. "I always feel so inspired hearing others sing and learning from other singers and [do`ing] what I love. Hopefully, I'll be able to listen to others live in the near future, and I am so incredibly grateful for this opportunity."
About the Writer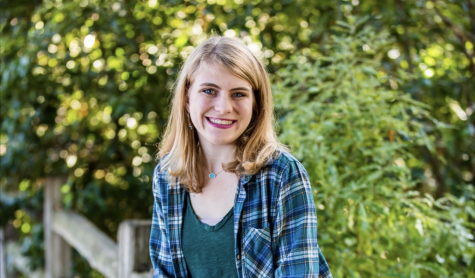 Taylor Chronert, Staff Reporter
Taylor Chronert is a junior and this is her first year on the newspaper staff. She is involved in Cross Country and Track at Vandegrift and has been doing that for three years. In her free time, Taylor enjoys reading, writing, listening to music, being outside, running, and spending time with friends