Upstaging COVID
Varsity theatre finds solutions to performing with COVID-19 regulations
The goal is to transport, whether it's to another place, time or both. But how does an actor do so when they can't even escape from the present while performing?
Varsity Theatre, also known as One Act Play, began rehearsals this week for their competition show, "Lost Girl."  With UIL coming up in March, the cast has been working throughout the year to ensure that their piece still has the same effect that one without masks, gloves and social distancing would.
"I knew what last year's [rehearsing] looked like and this year's is totally flipped on its head," senior Izzy Sommers said. "Obviously a lot of staging, a lot of protocols, trying to figure out lighting, trying to figure out set design will be really, really fun. And just trying to see how much we can get the show together while being as COVID friendly as possible."
Since the beginning of the school year, OAP has been experimenting with how to perform amidst COVID-19 regulations. This includes increased attention to body language due to the obstruction of facials from masks, which must be worn during the competition performance.
"Trying to get back into the swing of things as well as being able to learn that your body language really does make all the difference in how you perform," Sommers said. "So even though our faces are covered with masks, we do have to realize that we can show emotion through the way that we hold ourselves, through the way that we walk across the stage and how important that is."
Another area of acting and performing that needed to be worked on due to mask wearing was speaking, or projection.
"We didn't really think about how much it would impact us, but when we practiced with duet scenes earlier this year, we had to wear masks and so the projection and the articulation was hard because you feel a little crazy," junior Ainsley Gilbert said. "You're having to project so loudly without yelling and articulating very clearly, and for OAP you don't get microphones. So with the masks it's even harder to do so, so we did have to take time to learn how to do that without damaging our voices."
So while some features of competition have remained relatively the same, such as the live performance aspect, much has changed for the actors and audience.
"I don't think we'll have an audience, just the judges," Gilbert said. "And usually there's a public performance and an alternate performance in March, so hopefully we'll be able to do those, but it's definitely not guaranteed at the moment. We'll try our best, but we'll see how things are in March."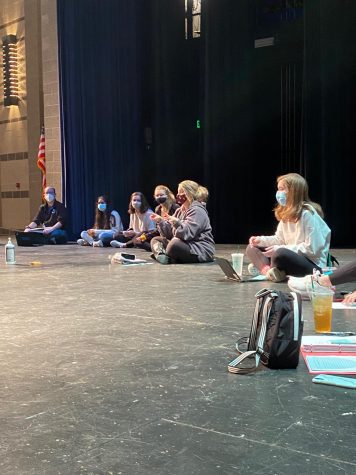 In addition to the changes in the competition, changes to Varsity Theatre's traditions and connection have also impacted the cast.
"All our usual exercises which we used to do as a class have been adjusted, I guess you can say, to fit this weird, weird time we're in," Sommers said. "So a lot of our in class traditions have been adjusted in order to stay six feet apart and just honestly it's been more of an individual experience rather than as an ensemble, which has its positives and negatives."
One of those positive outcomes is the opportunity to develop each cast member's individual skills.
"With really being able to hone in each of our individual crafts, I feel like we've each learned something so new about ourselves," Sommers said. "Like how we carry ourselves, what we depend on while acting, are we good with being able to carry ourselves in different ways, and show emotion in different ways. And I think it really just broadens the perspectives of not only being with my other classmates when I say that."
So even with the alterations in performing, Varsity Theatre has found ways to overcome them and put forward their best, according to Sommers.
"I know that even though this is my senior year that we will be able to put on a brilliant show," Sommers said. "I have all my trust in my directors and my fellow classmates."
And for Gilbert, who is new to varsity, the idea of performing after not being able to do so for over six months is still exciting–even with the restrictions in place.
"I'm really excited," Gilbert said. "It seems like whatever we will get to do should be really fun and I'm excited about the show and everybody in the class, so I'm still happy that we get to be performing."