From one passion to another
From eating at a cool restaurant she's heard about on Instagram to exploring Central Park, Gabriella Gaida is immersing herself in her relatively new New York culture she's surrounded by everyday. That is, when she has free time. 
Inspired by fashion growing up, a goal of 2015 Vandegrift alumna Gabriella Gaida was to have a career that took part in the fashion industry. Alongside that career goal, Gaida's dream was to live in New York. Moving to New York as an intern for Ralph Lauren in June of 2019 after graduating from Baylor University in May of 2019, she moved up and got a permanent job as merchandise assistant for mens accesories for all of North america. 
"I help buy all of mens accessories for the Ralph Lauren store, the website and the outlet stores," Gaida said.
As a student at Baylor University, Gaida felt unsure of specifically what part of the fashion industry she wanted to have a career in or that she would even find enjoyable.
"I didn't know what I wanted to major in but I decided to major in apparel merchandising and it turned out great," Gaida said. 
Picking what to major in can be a stressful and confusing process, but it's not always the most important thing nor is it necessarily definitive of your future career path. 
"I think advice for anybody is to not put so much pressure on yourself as to what you're going to major in because out of everybody I work with, nobody majored in fashion or studied fashion in school," Gaida said. "Everybody did education or business or even political science."
Gaida credits Vandegrift with helping her  with time management and understanding what classes she needed to take at Baylor University. After attending Vandegrift, she realized she wanted to stay in Texas for school. Attending art classes at Vandegrift helped Gaida discover her creative side as well. 
"I really loved my art classes that I took and they really helped me to be creative, but also in the creative field," Gaida said. 
After graduating from Baylor, Gaida decided to apply for an internship at Ralph Lauren in New York. During the internship she learned more about the company and the environment surrounding it, helping her decide whether she saw a job there in her future. Hired from within, she was able to show the company how she worked and made connections.
"It's all about who you know," Gaida said. "It sounds cliche but it's true. I got a few interviews from just reaching out to a few friends from a friend so I think just putting yourself out there, it's really hard to do, but it pays off in the end."
Moving up from an internship to a formal job, Gaida's day to day schedule is quite the task. Writing orders for each season, going to the market and helping pick out what styles Ralph Lauren is going to sell for the next season, making sure all the images are being shot that need to be and that the stores and website are properly flowing, she now has an outlet for both her management and creative side. 
"The most fun part of the job is picking out what we're going to be selling for the next season," Gaida said. 
Now reaching her goal of being a part of the fashion industry and living her dream of living in New York, Gaida's passions have now evolved as she is evolving with them. 
"My passion now is to study the business of fashion, see what companies are doing what, what we should be changing, seeing what trends are popular right now, what we should be buying," Gaida said. 
New passions arising, Gaida's hope to accomplish them depends on her plans for how to get there. 
"My plan is to grow within Ralph Lauren and work my way up," Gaida said. "Everybody I work with has been there for nine, 10 plus years and has worked their way up. I feel this is a really great company to grow my career at."
About the Writer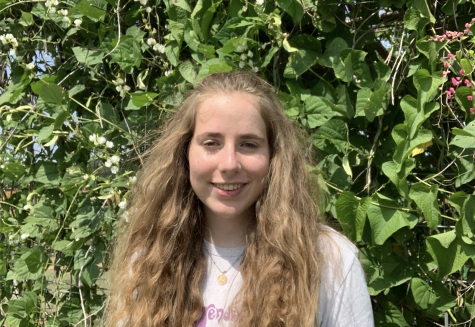 Abby Lincks, Staff Reporter
Abby Lincks is a sophomore and this is her first year on the newspaper staff. She is interested in journalism because she finds joy in helping to voice other peoples passions and accomplishments. In her free time, she enjoys reading, writing, and listening to music.