Living the Dream
Vandegrift alumni works for local well known jewelry company
Growing up, Vandegrift alumni, Alex George, didn't think it would be possible to work for a really popular jewelry company, let alone her favorite: Kendra Scott.
"It has always been a dream of mine," George said. "I knew what the company stands for and I always knew that I wanted to try and work at Kendra Scott."
George has always been a fan of Scott and her work. She grew up in Austin and felt like she always saw Scott and her company grow bigger. 
"Kendra Scott's headquarters are located on South Congress in downtown Austin," George said. "It used to be such a small store and not a well-known company, but now there are hundreds of stores and it is super popular. Kendra has just made a company that basically shows who she is as a person-caring, fashionable, and super awesome." 
In high school, George was involved in PALS and yearbook, which was something she was super passionate about. George said what she remembered from high school was being that she was one of the first years of graduates. 
"I loved my time at Vandegrift," George said. "I had lots of friends, was very involved in yearbook and PALS, I loved my teachers and it was just such a good year."
After graduating from Vandegrift in 2015, she went to college at University of Texas where she studied International Relations in Global Studies and majored in Business. When she was a junior she met someone who worked for Kendra Scott. 
"I went to a recruiter event which is where businesses invite students from UT to recruit and see their resumes. Kendra Scott was there and I met this lady named Laura who worked there," George said. 
Laura and George stayed in contact after the event and over the years. This past June her dream came true. Laura reached out to George asking if she would want to work at Kendra Scott. George said that she was over the moon excited when she got asked. 
"To this day I am still very excited that I got asked," George said. "I have worked very hard so I've always hoped that I would work for a big company. It also feels good to have someone that I know and a friend there with me because I have known Laura for years."
George's role at Kendra Scott is a Working Influencer where she gets to talk to people who are influencers. 
"I love having a relationship with people because I get to talk with girls who are influencers and are also like me," George said. "Plus I get to work with my friends, which is tons of fun." 
George mentioned that working at Kendra Scott gave her more opportunities as a business major. 
"In the past, I worked for a very small company," George said. "Back then I didn't get the opportunities that I was able to get when I'm working with a very well-known company like Kendra Scott. I got to see more events and more influencers to work for, so I am super lucky that I got to get a position like this." 
George never thought she would ever get an opportunity like the one she got. 
"Lots of people work really hard so sometimes they deserve an opportunity," George said. "Hard work and dedication, as well as just meeting people, got me to where I am today and I love what I am doing."
About the Writer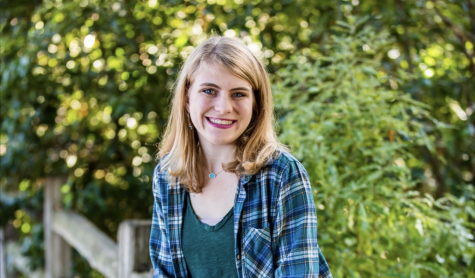 Taylor Chronert, Staff Reporter
Taylor Chronert is a junior and this is her first year on the newspaper staff. She is involved in Cross Country and Track at Vandegrift and has been doing that for three years. In her free time, Taylor enjoys reading, writing, listening to music, being outside, running, and spending time with friends