Culture Shock
New students move from other countries during COVID-19
The halls were nearly empty, filled only with the occasional masked student, and the faint echoes of normality that Vandegrift left behind in March. For students attending in-person, the first day of school this year was quiet, lonely, but for the few international students, the experience was heightened in every way.
Sophomore Ximena Romero moved to Austin from Madrid before the start of the school year.
"I don't think moving to a new country is easy for anyone," Romero said, "but especially this year, it hasn't been a normal change. School is so empty, I feel like I still don't know anyone that well."
Starting a new school usually presents its own set of challenges, and now, with restrictions in place and half the student population at home, settling in is even more challenging.
"I was nervous on my first day in person, because I was worried I wouldn't find anyone," Romero said. "Luckily, I made friends, but it's a very strange experience when everybody is wearing a mask."
For many students, finding their crowd can be achieved through joining clubs and associations at school. For new students, these clubs are a safe haven, a way to instantly surround themselves with likeminded people.
"I'm glad I joined theater," Sophomore Evan Wyatt, who moved from Dublin, said. "It really gave me a creative outlet and I've found so many great people through it. I think without that I would be sitting alone during lunch."
While making friends is universal, some aspects of the transition to U.S. life are less natural.
"I don't think Americans get how huge this school is," Wyatt said. "I got completely lost on my first day, but luckily, people noticed me looking lost and stepped in. I'm still a bit homesick, and I miss my old friends, but I think Im fitting in pretty well here."
From an American point of view, some things that catch foreigners' attention are things students don't even think about. But for Romero, stepping into Vandegrift was like stepping into a high school movie.
"It's just like on TV," Romero said. "I've already seen football players and cheerleaders, and you can take so many different classes. We didn't have that choice in Spain."
Overall, despite the difficulties Romero and Wyatt faced, they're both looking forward to life at VHS.
"The one thing I want to say to everyone is thank you," Wyatt said. "It hasn't been the easiest change, but the people here have made it so much better, and for that, I'm grateful."
About the Writer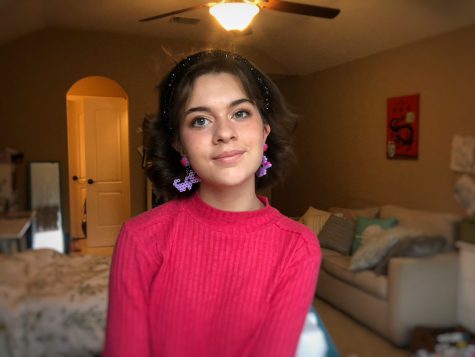 Isabel Young, Staff Reporter
Isabel is a sophomore and this is her second year on newspaper. Outside of school, she's also involved in dance. In her spare time, she likes to read, paint and listen to music.