Riley Gallagher opens up about the significance of the IB program
If you're looking for a tight-knit community that values life-long learning, Vandegrift's International Baccalaureate program is the place for you. This interdisciplinary program has smaller classes and students like senior Riley Galligher work on a year long research paper rather than taking multiple tests every six weeks.
Riley has been in the IB program for two years now and credits the program with allowing her to find life long friends and enjoys the project-based curriculum. Riley has learned how to balance her time between rigorous IB courses, choir and robotics.  
"I found that it was the best fit for my learning style in a few different ways, for one, I've always been more proficient at writing and project-based assignments instead of tests, and IB has a big focus on project-based learning," Riley said. "I think the smaller IB class sizes also appealed to me. It's easier for me to ask questions or engage with my class if it's a smaller environment where I'm more comfortable with the students."
Riley first heard about IB as a sophomore through her Robotics faculty members Katie Kendall and Zandra Lopez. 
"When I mentioned my interest in taking AP Seminar and AP Research because of the research aspect and opportunity to explore something I was interested in, they mentioned how the classes were fairly similar to the IB program," Riley said. 
IB requires students to undertake multiple extensive research projects with the Extended Essay (EE) and various Internal Assessments (IAs), the same type of assignments that would be found in a college course., 
"I looked into IB at Vandegrift more, and decided that the interdisciplinary and project-based learning was for me," Riley said. "Making active connections from what we learn to our current social climate is something essential and IB really stresses the importance of understanding in improving the community and the world around you. "
Not only is she an outstanding student, but Riley's involved in Robotics as a project manager as well as a part of choir as an officer and soprano section leader for the Chorale and Chamber choirs at Vandegrift. Most of her time is spent with her team in ViperBots and explains how managing time is most important when having such high responsibilities. 
"It's definitely difficult for me, but I try to get my homework done as soon as possible [even though] I have some struggles with procrastination," Riley said. "I think the most important way to be able to manage extensive time commitments and responsibilities is to ensure that you always have downtime to either talk to friends, read, or do any other hobbies – that way you can prevent yourself from burning out."
In her Standard Level chemistry class with Lauren Sweet her junior year, Riley undertook some challenges. 
"I remember being really nervous about taking that class because chemistry was one of my weakest subjects," Riley said. "I had to work hard in that class because it didn't come easily to me, but she was always kind and supportive, and it ended up being my favorite class my junior year."
IB may not be for everyone, but it's an environment where those who enjoy more challenging writing and who are interested in studying abroad form a more global relationship with their material instead of studying for a multiple choice test. 
"I would recommend IB for those types of students, but overall I think the program better prepares you to discover why and how we learn, and to develop the skills needed to continue to question, explore, and grow throughout one's life," Riley said. 
About the Writer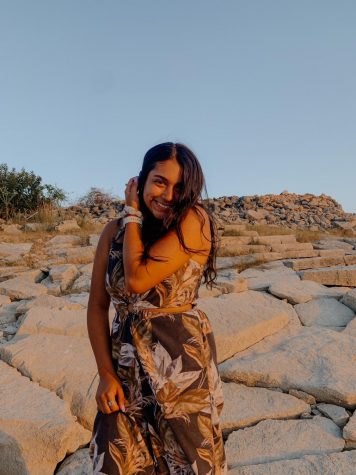 Marah Santiago, Staff Reporter
Marah Santiago is a senior, and this is her second year on the Vandegrift Voice staff. She enjoys spending time with friends and family. Her hobbies are painting and drawing. This year she is looking forward to make new memories.