Rolling beats, rolling hills
Vandegrift alumnus combines love of music and nature in career
It was a scramble to the top, only using his hands to reach the peak of the rocky surface. While doing so, peacefulness consumes his thoughts. There is no fear; only clarity.
Kyle Richardson, a 2014 graduate of Vandegrift, has been living in Colorado since he graduated. There he can be close to his calling: the outdoors. Fortunately, with his job as a professional mountain climber, being close to all the mountains, trails, and creeks Colorado has to offer isn't difficult to do.
"You can kind of impose your own expression into the hills," Richardson said. "Maybe you try and link up a few different mountains that no one's done before and missions and things like that where there's a little more creativity."
Starting when he was young, Richardson and his family took many trips to the mountains for vacations. Because of this, Richardson said, the outdoors has always been a big part of his life.
"I grew up as a kid going to the mountains with my family, and so the outdoors has always been a pretty big part of my life," Richardson said. "But in terms of actual, more technical climbing or going up bigger mountains, I started it around 2014, the summer after I graduated."
Richardson spent most of his high school days as part of Vandegrift's marching band, where his knowledge and admiration for rhythm and music started.
"I feel like [high school] was a good starting point for me to latch onto the things that I like to do and have a community that's supportive," Richardson said. "Which is a good foundation to go on into different parts of the world and sort of have a good, grounded base with information like how to be a good person and how to interact in different situations."
But after high school, Richardson knew he needed something different than the community he had grown up with. So, he took his love of music and nature and moved to Colorado for college.
"Here in Boulder we have the flat irons and those sort of guard the front of all the peaks, so ways you could go to the top of these mountains is you can actually scramble up the flat irons," Richardson said. "And when I'm doing that my head's very clear, like I'm not thinking of anything because there's consequence so that really brings you to the present."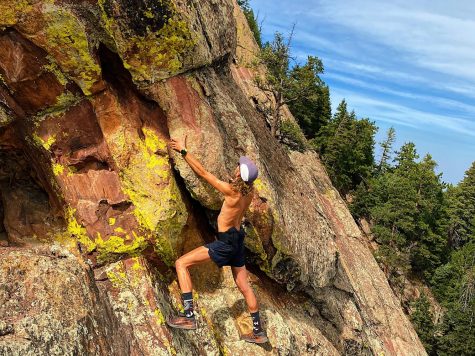 While some people may find the idea of hiking or scrambling (using only your hands to climb steep surfaces) daunting, Richardson finds peace in it and climbs with a clear mind.
"It's nice to de-stress and sort of clear your head," Richardson said. "I feel like I always think of my best ideas when I'm out so that's kind of like a form of meditation perhaps. You're just out there doing what's fun."
When not on the mountains, Richardson runs creek paths and listens to music. He said he enjoys the rhythmic feeling, binding his love of music with his love of the outdoors.
"[I'm] thinking about music, or rhythm, or maybe I'm listening to a podcast, and that's like sparking questions that I want to think about later in the day," Richardson said. "And then other than that it can be a wide variety of different things, but I find myself always leaning to something musical or rhythmic or something along those lines."
No matter which terrain he's on, Richardson has found a way to combine everything he loves. Whether it's clearing his mind on mountain tops or concentrating on music, Richardson claims that he views his surroundings as an open pallet for him.
"[The mountains are] sort of a form of expression and a creative outlet," Richardson said. "You have all these different options in terms of when you go out your front door about what you want to go do. It just feels good."
About the Writer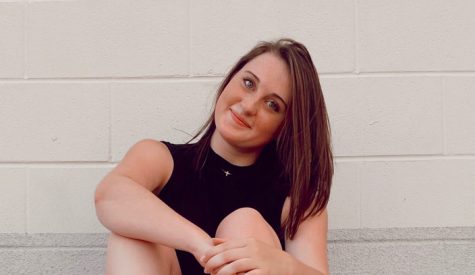 Kate Denning, Staff Reporter
Kate Denning is junior and this is her first year on the newspaper staff. She is currently also involved in PALs, Key Club, and Drama Club. In her free time, Kate enjoys reading and writing, listening to true crime podcasts, and learning about history. Kate is very excited to be a part of the Vandegrift Voice.