Aggie commit hopes to qualify for Olympic Trials
One second. 
A one second cut is all junior Shannon Bagnal needs for her childhood dream to come true: swimming in the 2020 Tokyo Olympic Trials meet. 
Shannon will have the opportunity to qualify for the Tokyo Trials this weekend at Texas A&M in the season's championship meet, after making it past preliminaries. She'll swim the 100 and 200 backstroke long course in the finals, which is the only qualifying meet this season.
"I've made finals in the past so I'm not worried about that, and in the finals I have an opportunity to get my Olympic Trials cut,: Shannon said. "I would really love to get that cut at A&M. It would just be incredible and that's my main goal going into this week."
In early December, Shannon called the head A&M girls swim coach Steve Bultman to officially commit her future as an Aggie swimmer, after a visit that blew her away. She chose A&M because of her plan to study kinesiology and their Doctor of Osteopathy Graduate Program, not to mention the well established swim team who's coach has a 100% improvement rate.
"The second I walked onto A&M's campus I felt it," she said. "All the girls were super sweet, the team was amazing, the coach is well renowned [and] the facilities are amazing. It's a very fast team and it academically has what I want and need.
To demonstrate her interest in A&M, Shannon sent emails out to college scouts on June 15, which is when NCAA coaches can start contacting high schoolers, hoping to catch Bultman's eye. She also swam in a meet in late June at Texas A&M, where she got her summer junior national cut in front of Bultman and the rest of the team's coaches.
"The fact that I got my cut at their pool, with their coaches watching really caught their eye, like this girl really has potential and she can do awesome things," Shannon said.
For Shannon, this is it, Texas A&M's team, now her team, and the opportunities it opens up as she gets increasingly closer to her Olympic Trials dream. The school's team is fast and regularly makes it to the top meets in the country, usually sending swimmers to the Olympic Trials.
"A&M is an extremely fast school, so it's kind of intimidating going into that, but I know that I'm still a junior and I have time to improve," Shannon said. "I love swimming, and I've always loved the idea of swimming on a college team, I've wanted to do that ever since I was a little kid."
About the Writer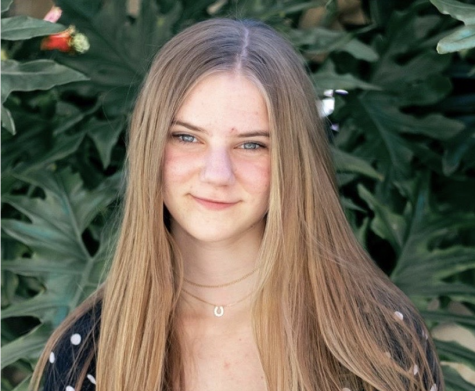 Katie McClellan, Co-Editor
Katie McClellan is a senior and this is her second year on staff. She's also a member of the yearbook staff and NHS. Katie loves to read, write, advocate, and spend time with her friends. She can usually be found on the lake or in Ms. Walker's classroom.