Band places 1st at Bands of America Austin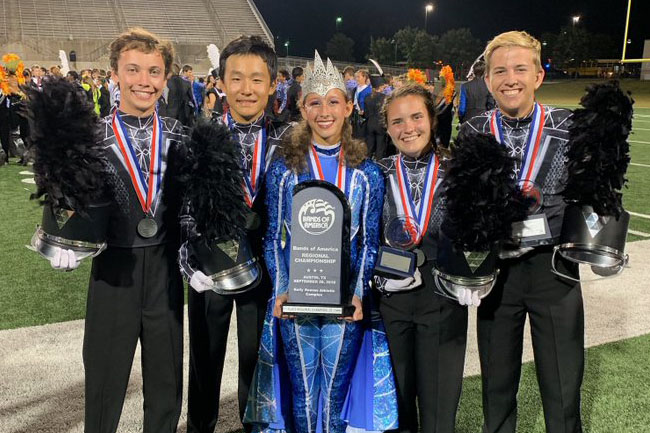 It was a long day filled with rehearsals and performances. They were tired and sweaty, but they were able to forget all of that as the announcer's voice echoed around the field. They had won.
The band and Vision company won the Bands of America Austin competition Saturday. In addition to coming in first place overall, the band won two of the three awards: outstanding music performance and outstanding general effect.
"I wasn't expecting first place," drum major Jackson Morris said. "But we definitely have been working really hard. It was really exciting."
Band members arrived at Vandegrift in the morning for their one-hour rehearsal before leaving for Kelly Reeves Stadium about 20 minutes away. They performed the preliminary performance and advanced to the finals.
"There were several [bands] that are going to make competition in Indianapolis that we're going to later this year," Morris said. "It was a lot of really competitive bands. A lot of people work really hard. It just felt amazing to finally have it all together and to finish the show."
After the final performances, the band members of the ten bands who made it to the final gathered on the field to hear how they did. The tension built as the announcer began announcing the rankings, from last to first place.
"It's always an unforgettable experience," trombone player Erin Houchins said. "But it's really different when you win the competition, because everyone is just running up to you congratulating you. And it's overwhelming, but it's also it's just really, really fun."
Vision dancer Morgan Seal said she was surprised the band won because though it usually placed high, it had not won in the past three years. She enjoyed making friendships with other dancers, but acknowledged that Saturday was tiring.
"The hardest part was keeping my endurance up over the day," Seal said. "I think [people] don't realize how much hard work goes into our show."
After the competition, buses took the band back to Vandegrift. Because they had to wait for their instruments and hang up their uniforms, many band members did not leave school until 1 a.m.. 
"I think when people hear what competitions are like, they don't see the appeal at all," Houchins said. "You're outside for more than 12 hours with no air conditioning, in buses full of sweaty people, it's not an appealing thing. When you're there, and you're experiencing all of it, you forget about the smells, you forget about like how horrible you feel and how tired you are because it's such an experience."
About the Writer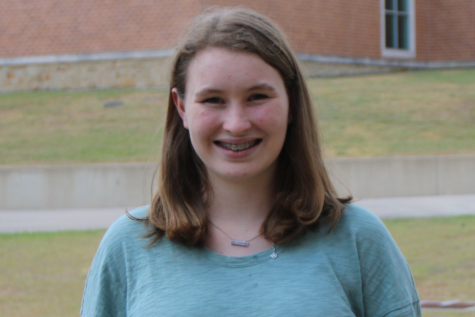 Natalie Brink, News Editor
Natalie Brink is a senior, and this is her third year on the Vandegrift Voice staff. In the spring, she competes in UIL journalism. When she has free time she reads as much as she can and walks her dog. She hopes to pursue a career in journalism after graduation.