Theatre to debut 'Almost Maine'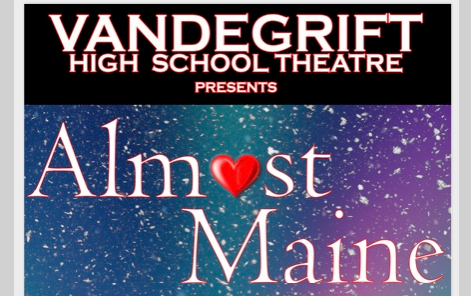 Music fills the auditorium as the lights slowly brighten on stage. All the actors take a few deep breaths, in and out, in and out. Finally, the first cue is called and the show begins.
Vandegrift Theatre Company opens their third main stage production of the year, "Almost Maine," at 7 p.m. this Friday. An open dress rehearsal, where teachers and students are encouraged to watch the show free of charge, is Thursday after school. Two more shows are Saturday at 2 p.m. and 7 p.m..
"This has been one of my more lax shows," senior Francis Kim said. "I feel like I've gotten a chance to watch other people be in their element. A lot of the time, I don't get to see them perform in class, and they don't maybe have enough stage time in main stage shows, so I think it's pretty cool to see how certain actors that I've known but not necessarily been friends with grow and develop."
"Almost Maine" is a romantic comedy that consists of several different story lines that all take place in the same location. Each scene introduces new characters, along with a new plot. The one main similarity between the scenes, besides the location, is the fact that they all revolve around the same theme: love.
"I think sometimes we just need a pick me up and we need a reminder that love is everywhere and you can find it anywhere and it can be in the most unexpected places," director Jonathan Alonso said. "All these scenes are not hyper realistic, they are surrealistic because strange things happen, but they are based on truth."
Alonso also said one of his favorite parts about this show is the music, because he is choosing it and it helps the audience get in the mood for each individual scene.
"I am putting some hits on there that remind me how I felt when I was young about love and finding the right person," Alonso said. "Get ready for some '80s and '90s hits and a couple of '00s in there."
Alonso also mentioned that rehearsals for this show have been all over the place since the beginning. The stage has been shared with both dance and band these past few weeks, so rehearsals for the actors were held in the choir room most days.
"It is very different because this Monday [would've been] the first day we actually [got to] use the stage space," Alonso said. "We usually have several days to get used to the space. The actors can get used to the stage, how they sound, and how long it's going to take to walk on and walk off."
With AP exams taking place this week, tech rehearsals also can't run past a certain time. Actors and technicians, like stage manager Jey Rameshbabu, stress that time may run out before they are ready for opening night.
"Only getting to run the show a limited amount of times because of testing makes me a little nervous, as this is my first time stage managing," Rameshbabu said. "The lack of repetition would be bad, but I am confident in the cast and crew. Everyone has been working hard to pull this off, so it will be an amazing show, regardless of the number of rehearsals."
This pick-me-up show will also be the last time some students, like Kim, get the chance to act on Vandergrift's stage before they graduate.
"I'm most excited to do something funny, as opposed to some of the other shows we do sometimes, and because it's my last show here," Kim said. "I'm not excited for it to be over, but I'm excited that I get to do something lighthearted and end on a good note."
To Purchase Show Tickets Visit: https://vhstheatre.ludus.com/index.php
About the Writers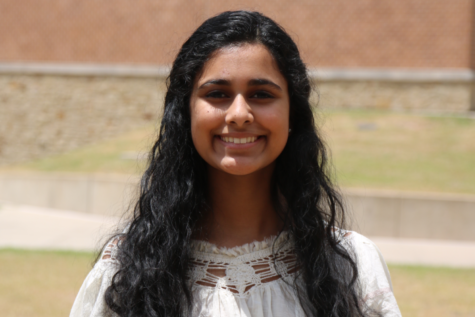 Harshita Avirneni, Spotlight Editor
Harshita Avirneni is a senior and this is her third year on the Vandegrift Voice staff. She joined newspaper because she wants to pursue a career in journalism. Harshita is also involved in UIL journalism, robotics and FCCLA.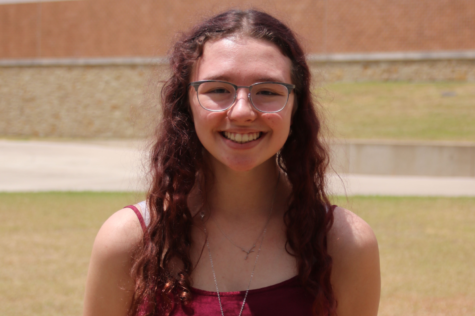 Claire Lawrence, Opinions Editor
Claire Lawrence is a senior and this is her third year on the newspaper staff. She wants to study journalism in college and eventually become the editor of a successful publication. She also enjoys theater and writing music.