Freshly trimmed verdant grass flies in the air with every swing of the club. The muggy heat creeps through their skin as sweat runs down their faces from their visors. Their hearts are pounding and legs shaking as they walk to the next hole. After days of competition, weeks of grueling practice and years of playing golf, the five students on the girls varsity golf team can finally say that they have achieved the pinnacle of high school golf, the UIL state championship. They hold the heavy wood and gold trophy as medals are placed on their necks and realize that they have finally made it.
On Monday May 15 and Tuesday the 16; the varsity girls gold team of Sydney Givens, Mimi Burton, Danica Lundren, Eden McSpadden and Breanna Hoese teed off at Legacy Hills Golf Club in Georgetown, TX, for the state championship. After taking silver the previous two years, the girls were hungry for their first place finish, led by Givens, a junior, who placed second in the state. 
"I came second individually," Givens said. "But, that doesn't matter to me. I've wanted to win as a team and not as an individual since last year and doing this as a team means so much more to me."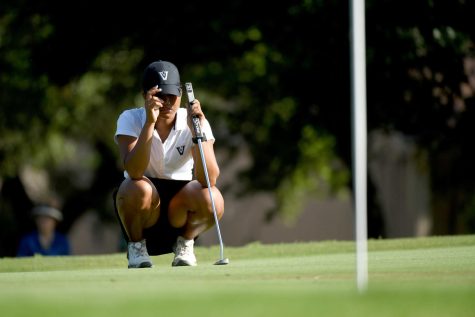 After two days of competition, Givens tied exactly with two other competitors, all having a total score of 140. After the playoff round, which happens in the result of a tie for first place, Givens was awarded the silver medal. The team overall scored the lowest, a 582, securing their gold position.
"I think for us seniors, this was really special," Burton said. "We all feel so privileged to make Vandegrift history. It's great to close out the senior season with such a great ending."
Seniors Mimi Burton and Breanna Hoese will be continuing their golfing careers in college. Burton will be attending the University of Notre Dame and Hoese will be attending Longwood University in Farmville, VA. For Hoese, a new student this year, she feels incredible gratitude for the team and coaches within the golf program.
"I feel like throughout the year our bond has just gotten so close and strong," said Hoese. "We're a really tight team and all of us knew that we were capable of winning and we came ready to win."
Throughout the season, the girls worked extremely hard to ensure a good performance at state. After their main objective, the state trophy, was finally secured, the team reflected on their overall season this year.
"I knew we definitely had a shot at the state championship this year," said Givens. "We all work really hard. So throughout the year, we knew this was coming. We all worked hard and made sure to enjoy the journey with each other."
At UIL, the team won with a distinctive six point lead over the second team, clearly nudging out their competitors. 
"We are all such good golfers and we all push each other to do better," said Hoese. "This overall brought us to the point where we could win state."
The golf team practices at the University of Texas Golf Club in Steiner Ranch, students who golf on the school team often also participate in outside of school tournaments. For these girls, golf is their passion and they devote many hours to golfing.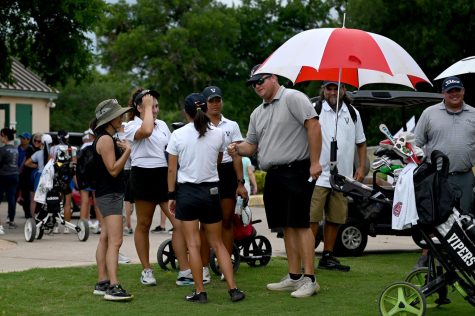 "Our team is consistent and we are all so hard working," said Burton. "For the seniors, I'm so happy that we're able to head out on such a good note which will set us up well for our golf in college."
For the girls on the golf team, the state win is so much more than a couple of medals, instead, the culmination of years of practice, training and improving. The win is the work of countless teams before them in the program who have been so close, the work of the coaching staff throughout feeder middle schools and current coaches Aaron Ford and Jaime Sierra. 
"I'm so proud of our team," said Burton. "We've been so close for so many years and it feels so good to finally win."