Game, set, match: Girls tennis double goes to state
The crisp sound of balls hitting the ratchet echoes through the stadium. Countless hours of practicing till perfection in the blistering early spring Texas heat. Blood, sweat, tears, and tennis. 
This week, juniors Claire Logeman and Lauren Tin competed at the UIL State Tennis Championship in San Antonio in the Girls' Doubles category. The pair was able to rack up a successful track record, placing second at both the district and regional tournaments. Logeman and Tin were able to carry their success all the way to the end of the road.
"My favorite part of tennis is doubles," Logeman said. "I like the team aspect of doubles and It's really fun playing with Lauren because we have been playing together forever." 
Logeman began playing tennis at eight years old recreationally with her father. Later on, she began taking lessons and playing club tennis, deciding to be more competitive within the sport. Logeman continues to play both school and club tennis.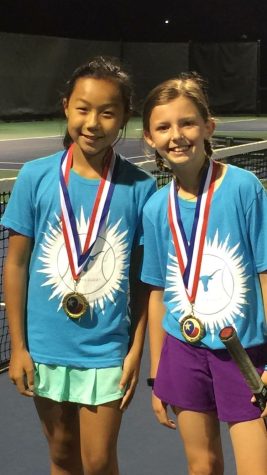 "I've played with Claire since before I can remember, I think she was my first doubles partner so we've always gotten along very well, especially in regards to our tennis styles." Tin said. "I think we complement each other in a way that not many other pairings do which is definitely an advantage on the court which explains why we've been so successful."
Logeman and Tin have been on the tennis team together throughout high school and middle school. In the fall, students play both singles and doubles with the team, however, in the spring, students are asked to focus on one event to master. For the duo, doubles was the clear choice.
"I love the energy that goes into pumping up one another. It's also helpful to have such a close team where everyone is so encouraging, it makes me want to play my very best even in those stressful situations." Tin said. 
The UIL state tennis tournament took place at the Northside Tennis Center in San Antonio on Apr. 25 and 26. This is the highest level of competition for tennis players within the state of Texas and saw players from all over the state compete for gold. 
"I'm always eager to get on the court and show off what I've been training so hard for." Tin said. 
Being able to play at such a competitive level is a huge accomplishment for the pair. On top of their on the court achievement, both students were recognized on Valor Day for their off the court achievements. Logeman and Tin are both Second to None recipients; Logeman for girls basketball and Tin for girls tennis. 
"We're just excited to be here," Logeman said. "We just want to do our best work and go out there and do the best we can."
In previous years, Logeman competed in the mixed tennis double her sophomore year and went to the state competition, while Tin has progressed to regionals all three years of her high school career. 
"I've had a very valuable experience in tennis after playing for so many years," Tin said. "I've been able to learn so much not just from coaches but my peers as well in regards to my tennis game and life in general as it's also a very mentally challenging sport."