Viper football moves on to fourth round of playoffs
On Friday Nov. 26, the Vandegrift Viper Football team, undefeated, went up against Vella in the third round of playoffs. Finishing off the game, with a final score of 38-14, the Vipers made it into the fourth round of playoffs. 
"I felt confident in my team; us going down to Corpus was not an easy venture, but it made the victory all the more satisfying," senior offensive liner Kevin Corcoran said. "To hold that gold ball up after the game, and it feels good to make history at Vandegrift." 
Before making it into the third round of playoffs, the Vandegrift Vipers went up against San Marcos in the second round where they moved on after winning with a score of 52-14.
"Going into that third round playoff game, I'm feeling amazing," senior and tight end receiver Landon Thomason said. "The team is really performing well right now, and everyone is working hard." 
This year for playoffs the team traveled all the way to Corpus Christi for their game. Even though it was a long drive, Thomason said he thought it was easy. 
"The trip was easy," Thomason said. "The coaches took great care of us with a bunch of food and there was plenty of room."
When they entered the field at Corpus Christi, and got ready to run on, Corcoran knew it was going to be a great game. 
"I was feeling that it was going to be a really good game between two very good teams," Corcoran said. "It all goes back to consistency in how we play to our level, not our opponents' level whether that'd be up or down we just play our game."
The Vandegrift football team has been undefeated this year with consistent winning. Thomason says that making it this far into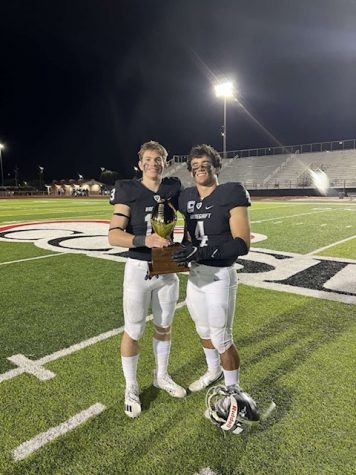 playoffs feels really great. 
"Winning is always amazing, this year is just so fun to be around everyone and I know there is never a dull moment," Thomason said. "I know we are not done yet; we just need to keep working hard."
When holding the golden ball after the game against Vella, Corcoran knew that the team just made history at Vandegrift. He is feeling confident about the fourth playoff game.
"Making history at Vandegrift means alot to me," Corcoran said. "And with the team we have, I am feeling confident."
Thomason said he always knew that the team would be making it this far into the playoffs, and that there was no doubt that they wouldn't. 
"Never did I doubt how far we'd go in the playoffs," Thomason said. "I expect us to go all the way to state."
This week in the fourth round of playoffs, the Vipers will be going up against Westlake and their football team. 
"Westlake is a very good program and have lots of good players," Corocran said. "So we just need to go back to playing our type of football, focusing on the basics of the game and play to our standard."
With the team going up against Westlake this week, Thomason said his main goal and focus this week is doing his job and doing it well. 
"I have the same goal and focus every week," Thomason said. "Just get myself ready to do my job and play my best for the team."
Every year for the playoffs, the team always plays at a college stadium. This Saturday, they will be playing at the Darrell K Royal-Texas Memorial Stadium at the University of Texas, Austin. 
"It's a dream come true to be able to play at UT," Thomason said. "I know me and my brothers have grown up wanting to play on that field."
As seniors, both Thomason and Corocran said they are both feeling mixed emotions, knowing that it was going to be their last time playing high school football.
"It's sad but also exciting because I know me and my senior brothers have worked so hard to get to this point," Thomason said. "And it's a reward, but also sad because any game could be our last one with these guys."
Even though it's a sad feeling, Corocran said it makes you think back on memories.
"It makes you think back to playing peewee football and just see how time just flies by when you're just around people that you care about," Corocran said. "And with it being maybe the last time I play football, I will make the most out of what I have left."