Cross country captain commits to Texas A&M
After lots of thought and planning on what to do with her future, senior Taylor Mathis knew that she wanted to incorporate cross country and track into her future, which is why she announced her commitment to Texas A&M.
"It feels really good and I'm really excited about it," Mathis said. "I chose Texas A&M because it was a combination of everything I wanted in a school, and it just made me feel really optimistic about the future."
Mathis has been running cross country and track for Vandegrift for all four years and also does club running outside of school. When it came to choosing colleges, Mathis wanted to carry hert love of running with her.
"I've just really enjoyed cross country in high school and through the school and club, and all the friends and the community I've made throughout and I knew with a big step of going to college, I wanted to be in an environment that felt like a family and was very open and welcoming," Mathis said. 
Before settling with Texas A&M, Mathis was looking at a wide variety of schools and the main thing she wanted from a team was a very strong team atmosphere. 
"I also wanted for it to feel like a family like this team has been for so long and that was definitely something that went into my decision making process," Mathis said.
When it came to the committing process, Mathis said that it was really long and stressful, however it made her think of what she wanted and what she wants to do.
"It definitely makes you think of what you want and a school of where you want to be for your future and there are just so many components that go into it, so it was just a very tedious and long process," Mathis said.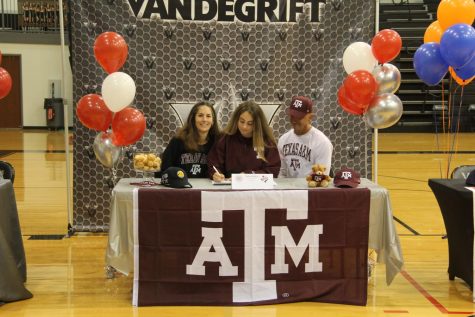 Besides running cross country and track at Texas A&M, Mathis is planning on studying kinesiology, but is open to change. 
"I'm not set to anything right now, there's a lot of things I want to do with my life and I'm not sure what I want to major in just yet," Mathis said. 
Recently, Mathis went and competed at her final state meet with the other Vandegrift cross country boys and girls, where she got a time of 19:32 and placed 96th in her race. 
"The race went pretty well, it was very sad because that was my last cross country race in a Vandegrift jersey," Mathis said. "It was just really fulfilling to end it at state and the girls did really well and our boys team did really awesome too."
Currently Mathis is the first person on this year's team to be a 4 time 6A state qualifier and has been running in the state meets ever since she was a freshman.
"It's really amazing and I am so grateful for it all, especially with the girls I've gotten to go with, they are all such amazing people and ones I definitely want to keep in my life forever," Mathis said. 
As a senior and this being her final time running high school cross country, one of the meets Mathis is always going to remember is the Woodbridge meet in California. 
"Both of the Woodbridge trips are so different yet equally hold so much value in my heart just because it made me so close with the girls on our team and we made such great memories that I will cherish forever."
Trasinitioning from high school cross country running to college running can be really scary even with the increase in distance and the competition which is what Mathis said she's most nervous about.
"These are all the top girls in the nation that I'll be competiting against and it's just super inspiring to be with them," Mathis said.
Even with the nerves, Mathis is still looking forward to running at Texas A&M, especially getting to compete with last year's graduates, Gemma Goddard and Emma Saia. 
"I'm super excited to be back with Gemma and Emma and I'm looking forward to a whole new experience because I feel like it's going to be very different from high school just with the distance, going from 5K to 6K, but just the competition too," Mathis said. 
As a senior and captain, some advice that Mathis would like to give to the team, next year's captains, and newcomers that are planning to join the team, is to just make every practice and memory count. 
"It's always going to mean something and whenever you look back on that time in your life, you're never going to remember the bad you're always going to remember the good, and positives, and great memories with people who met you," Mathis said.