Q&A: The countdown till state
Cross Country talks upcoming state meet, boys team competing, and more
With five days until the Cross Country State meet at Old Settlers Park in Round Rock, state competitors junior Kevin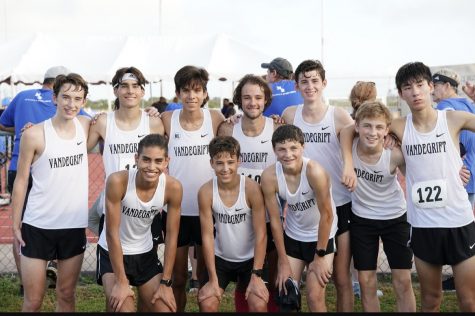 Sanchez, and sophomores Brayden Schick, Annie Burton and Svea Jones discussed their feelings and thoughts.
Q: This is the first time in school history that the boys team are going to state, how are you feeling about that?
Sanchez: Pretty hyped. I mean we are all pretty excited, just like a really big accomplishment in school history as we know
Burton: I think having the boys with us is just going to encourage us even more to try our best because they are making history.
Jones: Yeah I think we are all just really proud of them.
Q: Obviously you guys just competed at Region, you guys got first, how do you guys feel about that?
Burton: Definitely very pumped because we are seated to be the top four going into state so I really hope to get on the podium.
Jones: I think we've definitely worked hard for it, so it's worth it. 
Q: What are some goals you have in going to state, what times do you want to get?
Schick: Personally I want to break 16 and as a team [I'm] hoping that we can be on the podium.
Sanchez: I'm going to try going for the school record, which is 14:39. Anthony Monte broke it in 2019, but I don't know if it's going to be possible.
Burton: I would definitely love to break 18:30 because my personal record is 18:28, so personal recording at state would be great.
Jones: I'm not exactly sure if I want to have a specific time, but just trying to push myself.
Q: So Brayden this is your first time actually going to state with VXC, how are you feeling about this?
Schick: I'm pretty excited. It's a lot of the other boys' first time as well, so I think we are all pretty hyped and we want to throw down a great time.
Q: So Kevin this is your second time going to state, is there any pressure you are feeling as you are a district and champion regional winner?
Sanchez: I definitely feel like I need to show up and do my absolute best, but generally I'm just excited and looking forward to running.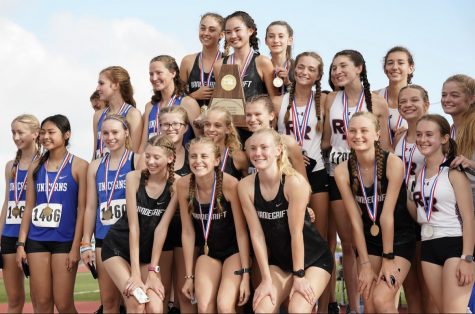 Q: This is your second time going to state, how are you guys feeling?
Burton: I'm feeling pretty good. The regional meet went very well, so I'm just hoping to keep it going.
Jones: I'm really excited to see what happens.
Q: What are some ways you guys have been prepping to get ready for state?
Schick: Obviously we've been hydrating a lot and getting a lot of sleep, not eating too much candy, especially after Halloween.
Sanchez: Just trying our best in the workouts and just generally having a lot of fun with our training, because just having fun is the point.
Burton: I've just been personally drinking a lot of water, trying to get more sleep, but it's a little more hard with school
Jones: Trying to hydrate and sleep.