Big kick for womankind
Vandegrift's first female freshman football player shares her story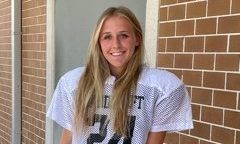 The majority of students involved in football come from a male perspective. Thus, when a female enters the field, it can be a unique and eye-opening experience for many.
"I love challenging myself and trying new things," freshman football player Elena Welch said. "And football allows me to do both."
Welch is the first female girl on the freshman football team at Vandegrift. She started playing football last year after being in a bet with her brother about her ability to kick a 30 yard field goal, Welch ready to prove him wrong. 
"We were watching football and he said there was no way I could kick a 30 yard field goal," Welch said. "[Well] challenge accepted. We went out to Canyon Ridge Middle School with the middle school ball, and on my first try I kicked a 35 yard field goal, and it felt awesome. Since then I couldn't wait to sign up."
Welch started to play football at Canyon Ridge Middle School where she was a kicker for the middle school football team, and is now a kicker for the Vandegrift freshman team.
"It's fun being the only girl on the freshman football team and all the boys are really nice," Welch said. "Even though I haven't met the other half of the team yet, I am still really good friends with a couple of the guys, and we hang out a lot." 
On the first day of practice with the boys football team, Welch was hoping she would be able to prove herself as a female on the team, as well as a good kicker. 
"I wondered how people would receive me but knowing I have a lot of people supporting me, I am excited about the team and the season," Welch said. "One of the setbacks I've had though with being a female on the boys team was that some of the boys are bigger than me and can kick farther."
Welch is not the only girl to be playing football with the boys team, as the football team has taken in many girls before who are interested in playing a male-dominated sport. Head Football Coach Drew Sanders says he enjoys having a mix of boys and girls on the team, and welcomes any gender of person to the team.
"We pride ourselves on having a student athlete, especially Elena, because she's a girl with high character and great work ethic," Sanders said. "So no matter the gender of the player, those are things we look for and encourage."
Even though Welch doesn't receive any hatred or isn't treated differently because she's a female on the boys' team, she does have trouble figuring out how to do some things 
"No one has ever treated me differently nor do I expect to be treated differently," Welch said. "However since I am a girl I don't go to the boys football classes, which causes me to sometimes have trouble figuring out how to do certain things." 
Everyday when she's out on the field, Welch works on hitting the ball consistently over the field, and strives to increase her distance. She has also been working on her extra points, field goals and kickoffs. 
"I'm having a lot of fun seeing my improvement with each practice," Welch said. "I want to be able to kick a consistent 36 yard field goal with the high school football team, as last year I was able to kick a 40 yard field goal with the middle school team."
To keep her from getting injured and causing pain to some parts in her body, Welch makes sure to stretch before and after her practice, and also plays different sports besides football to help strengthen different muscles. She enjoys wakeboarding, wake surfing and running track.  
"I am on the Westlake club soccer team where we practice three days a week," Welch said. "We do a lot of conditioning and strengthening to stay in shape. I also do local and whole body cryotherapy and compressions regularly at Restore Hyper Wellness to help with any inflammation." 
What Sanders sees most in Welch is not only her being a good kicker, but the potential she has to be a good football player and to show what she can do as a female. 
"Elena is an awesome kicker which makes her a good addition on the field," Sanders said. "More importantly though, she has a great attitude, works hard and has been an outstanding teammate."
What Welch is looking forward to doing this football season is not only playing high school football, but also getting to be there for her team, and helping out the freshman team bring home some wins.
"I am looking forward to being able to do my best and helping out my team," Welch said. "I am also looking forward to doing something that is different and that I've never done before."
As a football coach, Sanders is really proud of the school for having people of different genders play on the same sports team.
"Vandegrift is an incredible place with students and student athletes who are confident enough to go for things they want to achieve, as well as respectful enough to be kind to everyone they come across," Sanders said. "Elena, as well as the rest of the Viper Football team, are great examples of that."
As a female playing a boys sport, Welch really enjoys the opportunity of girls getting to play a "boys' sports" and encourages girls to try playing on a majority-male sports team, even if they are afraid of being judged.
"I advise that girls should try playing sports on a boys team and put their mind on doing something you enjoy doing," Welch said. "And you shouldn't care about what other people think and just do what you love."