Scoring their way to playoffs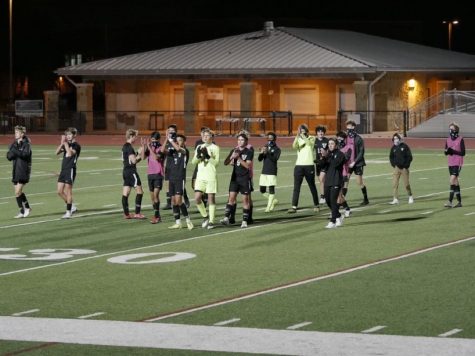 Working their way through district, boys varsity soccer is determined to play in what was stripped away from them last year- playoffs. Seniors Ethan Dacaret, Charlie Fournier and Patrick Donellan speak on what they have to offer this year as a team.
"Our goal this season is to make playoffs and eventually make a run for State, because we didn't get that opportunity last year," Dacaret said. "We have more variety with what we do in being able to adapt in any circumstance which makes us stand out as a team."
In this year's season, Coach Bobby Courtney mentions how fortunate he feels to be a part of such a skilled team. What truly makes him an outstanding coach is his love and passion for the sport, as soccer has always been therapeutic for him when needing to escape. 
"Soccer was my first love and it's been an incredible blessing to share daily with others who are just as passionate and love it just as much as I do," Courtney said. "We are fortunate to have a very athletic and technical group that have built the perfect chemistry for a team."
The players value the coaching methods of Coach Courtney as he not only wants them to become better athletes, but truly understands the honor of playing soccer. 
"Coach gives us room to joke around and have fun while also getting things done," Fournier said. "He plays motivational videos and gives talks that prepare us for the game." 
The team's biggest competition for the season is Westwood, yet due to teams being quarantined, the game was postponed. The team is looking forward to playing them again, especially since they won 2-0 last year. 
"Having some of our games postponed has been quite frustrating," Dacaret said. "Our guys are always looking forward to playing, but at the same time it gives us rest and allows some of our key players to recover from injuries."
Last year's seniors weren't able to participate in the playoffs because COVID-19 took away that chance. 
"It really feels like an extension of last year's season," Courtney said. "When you look at the motivation there, it feels like a lot of them are fighting for the seniors that we're here last year that didn't get that chance [to play]."
Dacaret plays forward and is eight goals away from breaking the all time goal scoring record of 41. Dacaret values the family environment they have built this year which has motivated him to not only play for himself, but to leave a legacy for his team.
"Before each game we have a team huddle and say the Lord's prayers," Dacaret said. "Being able to hang out on and off the field I feel like we have a very strong bond to play for one another."