Viper to go to Baylor
High school sophomore Brayden Buchanan announced on Sept. 3 he would be continuing his athletic and academic career at Baylor University. Having played baseball for the majority of his life, Buchanan had a few options to choose from including the University of Texas.
"All my coaches and my family were my biggest supporters, They were definitely the ones who helped me get here."  Buchanan said, "Baylor and Texas were my top two choices, and we kind of just chose between the two of them."
Allen McGee, the Vandergrift head baseball coach, played Buchanan on varsity his freshman year. He plays catcher, pitcher, middle infield, and third base. Since playing from the age of three, this past year his growth was especially noticeable to the coaches.
"His hard work and leadership are some of Brayden's greatest strengths," McGee said, "Seeing him have maturity on and off the field and his competitiveness was always there, but now it's been exemplified."
High school sports are tougher than other levels because they weed out the less driven players. To play at the collegiate level athletes need to have goals, and be driven by something.
"I've always had a passion and always wanted to keep going and play as long as I can," Buchanan said.
Role models, like the Angel's center fielder, are who Brayden depended on for inspiration, but even with inspiration life still has its curve balls espacially with covid.
"My parents are definitely at number one in life perspective, but baseball-wise, I've always wanted to be like Mike Trout," Buchanan said, "and this summer the dead period being extended for so long kinda put a slow on things, We kinda had to wait out for five or six months until college coaches could come out and see anything."
The potential he has going forward isn't only seen by the colleges that scout him, but the coaches he plays for as well. McGee says Brayden needs to remember to have fun on the road to his collegiate career.
"Everybody can improve and I think with his determination and striving to be even better his potential to reach new heights is unbelievable," McGee said, "Don't compare yourself to others, You try and be the absolute best that you can be."
About the Writer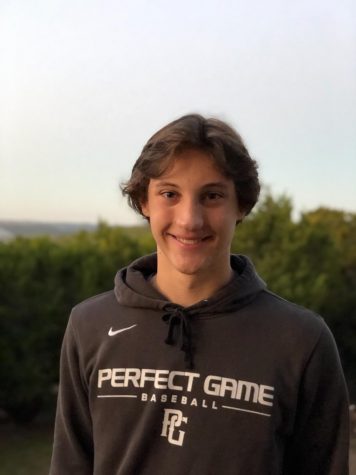 Callen Nutt, Staff Reporter
I am a junior at Vandegrift High School. I play baseball and am involved in Boy Scouts. This will be my first year on the newspaper staff. I enjoy going out with friends and spending time with my family.