Sophomore sets hurdles record at Rouse meet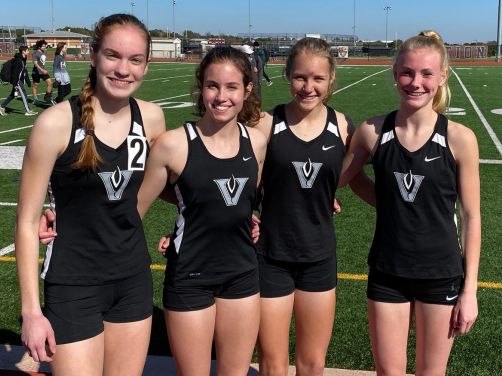 The first track meet of the season was at Rouse on Feb.14. Sophomore and varsity track member Maci Simmons started the season off by beating her own 300 and 100 meter hurdle records.
"It was a really great way to start the season," Simmons said. "I'm happy that I was able to leave that impression on the other schools, that Vandegrift is the school to beat."
Last year, she set a personal record of 15.75 for 100 meter hurdles and 47.12 for 300 meter hurdles. At the Rouse meet she completed the 100 meter hurdles in 15.32 and the 300 meter in 45.11. She was able to secure her 100m time even after a near fall during the race. 
"Maci really bounced back," track coach Colin Sully said. "She clipped the hurdle in the 100 meters and almost wiped out. But she came back in and won the 300 meters."
Even with a fall at the end of the race, Simmons helped the team come out of the meet first overall, with both the girls and boys varsity teams winning at Rouse.
"I just realized that I had to keep running," SImmons said. "My team was relying on me to help secure a win. I just had to pick myself up and keep going, and somehow I recovered fast enough to beat my records."
While the meet was competitive, Vandegrift's rigorous training made it easy for them to set themselves apart.
"We train every day, for hours on end," Sully said. "The team works harder than any other team I've ever seen, and it shows."
Going forward, the team will continue to train just as hard to keep winning each meet.
"Even if I beat my records in this meet, I have to keep my head down and keep trying my best," Simmons said. "Nothing is guaranteed just because I did well in one meet. It's always important to me to keep aiming higher."
Vandegrift's early win bodes well for the upcoming season. Simmons plans to continue her success going forward.
"I'm just really excited about this season," Simmons said. "We started off really strong, and I can't wait to see what we're going to do next."