Freshman defends his spot on Varsity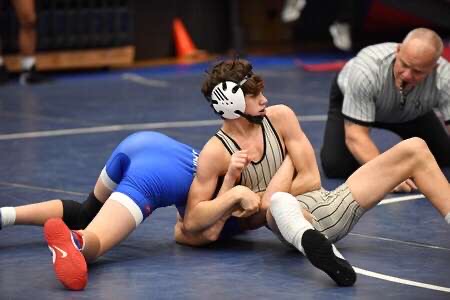 He is the youngest and the smallest, but he is devoted to prove his position on the varsity wrestling team. Freshman Carter Taylor is currently ranked 18th in the state for wrestling with 38 wins and 11 losses, according to head wrestling coach Paul Muck.
"My social life has become amongst the wrestlers now because we have the same schedule," Carter said. "When someone asks me to hang out it's hard because I'm either out of town or at a tournament. Balancing school is really tough because obviously I don't have much time to do homework, especially when there's practice during the week, people forget about it cause you are just drained and then go home and take a shower then sleep." 
In order for him to get a spot on the team, he had to defend his position at the top of his 106 lb weight class. Taylor says players are often more respected when being good at their sport and he's beginning to enjoy it.
"Obviously, he's got to show a level of maturity that matches the honor of being on varsity as a freshman," Muck said. "That's not always easy but he does a good job. The pressure to represent and carry that weight class in every tournament against juniors and seniors is a lot of pressure." 
Carter first moved to Austin in the fourth grade and his dad, Eric Taylor, advised him to join wrestling. Taylor was also a wrestler during his high school years. 
"I think he's going to see his name at the top of the rankings someday soon," Taylor said. "Especially if he keeps working hard at becoming a better wrestler and continuing to grow and get stronger."
Carter said his dad, as well as his brother, motivate him the most when competing. 
"I want to be better than my brother because I'm competitive, but also my dad because he's in the Army, and I've just always wanted to make him proud," he said. "Not to sound original but don't give up because it's a tough sport, you are always going to have to try and get out of your comfort zone and that's how you're going to get better. It's definitely not easy, it's the hardest sport I've ever done."
He also has a great bond with Muck and looks to him for advice when getting through challenging matches. 
"He's hard working," Muck said. "It's definitely not easy being a freshman in a varsity sport, but he has a funny personality which fits in well with the older kids. He has high goals set for this year so that's what will separate him from other freshman. I just think his whole year as a freshman has been his major accomplishment." 
About the Writer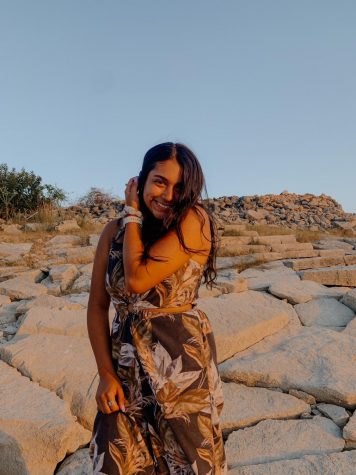 Marah Santiago, Staff Reporter
Marah Santiago is a senior, and this is her second year on the Vandegrift Voice staff. She enjoys spending time with friends and family. Her hobbies are painting and drawing. This year she is looking forward to make new memories.