Senior breaks school record twice in swim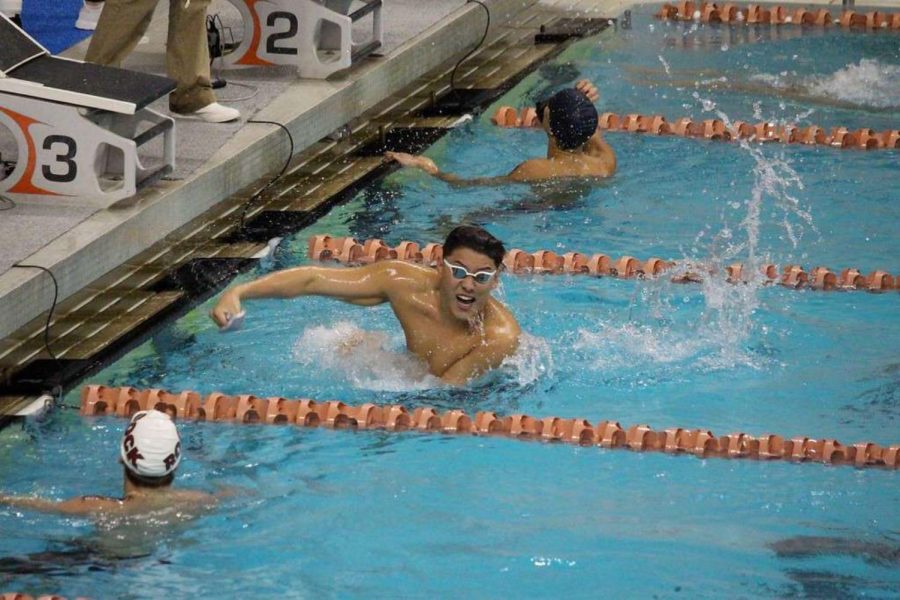 He looked down at his lock screen one last time before he took his position on the diving block.
58.31
58.31
58.31
He repeated these numbers to himself over and over again, he was determined to break the school record and make sure his legacy stayed behind.
Senior and swim team captain Brandon Wong set the goal to break the school record in his best event, 100-meter breaststroke. He broke the record at his district competition on Jan. 17, dropping his time to 58.06 seconds. Then, at the regional competition on Friday, Brandon beat his previous record with a 57.91 second time.
"In previous years, whenever I would drop time, it was always just because of physical preparation," Brandon said. "Lately though, for this goal, I've been doing a lot more mental preparation. When I was trying to break the record [at district], I was in the zone before my race. I wouldn't think of anything else except for the race. I didn't talk to anyone right before the race. I just listened to music."
Brandon said before his race at district, he had to tell himself this might be his last race, so he needed to make the best out of it. He also mentioned he had a few mantras he would tell himself before any big race, such as "if you want it bad enough, then it's already yours and you just have to go get it" and "show no mercy."
"I was trying to talk to him [before the race], but he was just in the zone," sophomore and friend Avery Wong said. "He just wasn't even listening to me. I was trying to hype him up but he was listening to music. I did get to tell him that he's done so much training he could do it."
Brandon made his goal clear to everyone in his life. His coach, Lisa Denison, believes that this was the root of his success, setting a goal and being intentional about it.
"Everybody knew [about Brandon's goal]," Denison said. "Brandon understands that I wish I could get a lot of athletes to do is to actually set that goal. He made it known, he wrote it down, he told everybody about it, he even made it his phone lock screen. He knew down to the hundredth of a second what he was trying to beat."
Brandon said his initial reaction to breaking the record was shock. He recounted shaking and crying in his goggles when he saw that his hard work had paid off. Avery said he was so excited that he slapped the water and when he looked over to his teammates, everyone was jumping and screaming in the stands for him.
"Brandon is a really gifted swimmer," Denison said. "He has talent beyond belief and is our premier breaststroker. He's put in a lot of time to perfect his technique. I think some of it comes from his past. He didn't even make the team his freshman year, so that made him work harder."
Brandon has been swimming since his freshman year, only doing club swim at Nitro his first year after he didn't make the school team. He said that the feeling of failure he got from not making the school team just served as motivation to work harder.
"When it hit me that I was a senior and about to graduate, I realized that most people won't remember me when I leave," Brandon said. "That's typical, but I wanted to leave a legacy behind, something that stood out. When I looked at the record board, I saw all the names up there on the wall and decided I was going to get up there one day."
Avery said she found motivation from Brandon. After watching him go from not even being on the team to breaking a school record and then breaking it again, she now is more motivated to work harder to achieve her goals.
"When I first met Brandon, I was in eighth grade and it was his first year on the team," Wong said. "If he had told me then, I would've said there's no way he could [break the record] because he barely made the team that year. Now though, seeing him in his senior year and seeing how much he has overcome, I knew it was possible."
About the Writer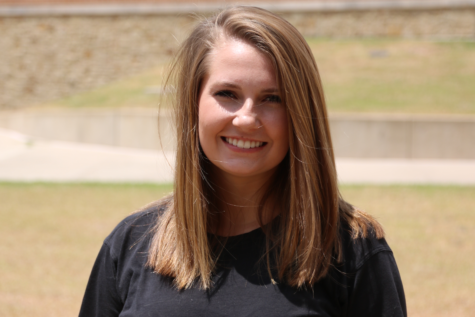 Codi Farmer, Staff Reporter
Codi Farmer is a senior and this is her second year on staff. She is also involved in PALS, DECA, UIL Academics and Rake the Lake. She loves music, reading and writing and can often be found playing with dogs.